A two-way tie: READ-O and BotTalk chosen as co-winners of this year's CONTENTshift Accelerator.
A total of 44 startups from ten countries were vying to win the CONTENTshift Accelerator 2021, with two companies ultimately prevailing in this year's competition: BotTalk and READ-O were chosen to share the top honours – and the €10,000 in prize money. Since the launch of CONTENTshift in 2016, this marks only the second time the jury decided to award the prize to two startups instead of just one. READ-O and BotTalk represent very different approaches to the urgent task of bringing innovation to the book industry: while READ-O functions much like a dating app by "matching" readers with books suited to their tastes, BotTalk converts written texts into spoken audio formats.
Two key themes in today's book industry
When asked about the decision to choose two startups, spokesperson Olaf Carstens (Cornelsen Verlag) – who was joined on this year's jury by Detlef Büttner (Lehmanns Media), Dr. Leif Göritz (Thalia), Dr. Stephan Dietrich (Junfermann Verlag), Sabine Haag (Verlag Wiley-VCH), Ronald Schild (MVB), Karin Schmidt-Friderichs (Börsenverein) and Deepa Gautam-Nigge (SAP Next-Gen Innovation Network) – responded by saying: "We decided to award the first-place prize to two startups, because the two of them provide solutions to two very different yet equally important themes currently facing the industry". Carstens went on to note that BotTalk's business model had the potential to give a real boost to the "voice" theme within the book industry: "This startup not only offers publishers smart text-to-speech solutions that are "Made in Germany" and distinct from the alternatives offered by Amazon and Google, they can also be implemented in an uncomplicated and professional manner with a very good price-performance ratio. They simplify the reader's ability to shift between formats, and this helps to make books more accessible in an even greater number of everyday situations".
READ-O, on the other hand, won over the jury with a concept that strives to counteract declining numbers of book readers. "Their algorithm is based on needs-oriented metadata and opens up a new level of accuracy and content quality in the realm of book recommendations", Carstens noted. "This has the potential to enable the industry to rekindle enthusiasm for book reading and also to increase reading frequency. We're especially eager to follow the startup's next steps, which involve the building of a digital community platform for books, which they plan to create by expanding the app's features".
Dr. Andrey Esaulov pitching (BotTalk)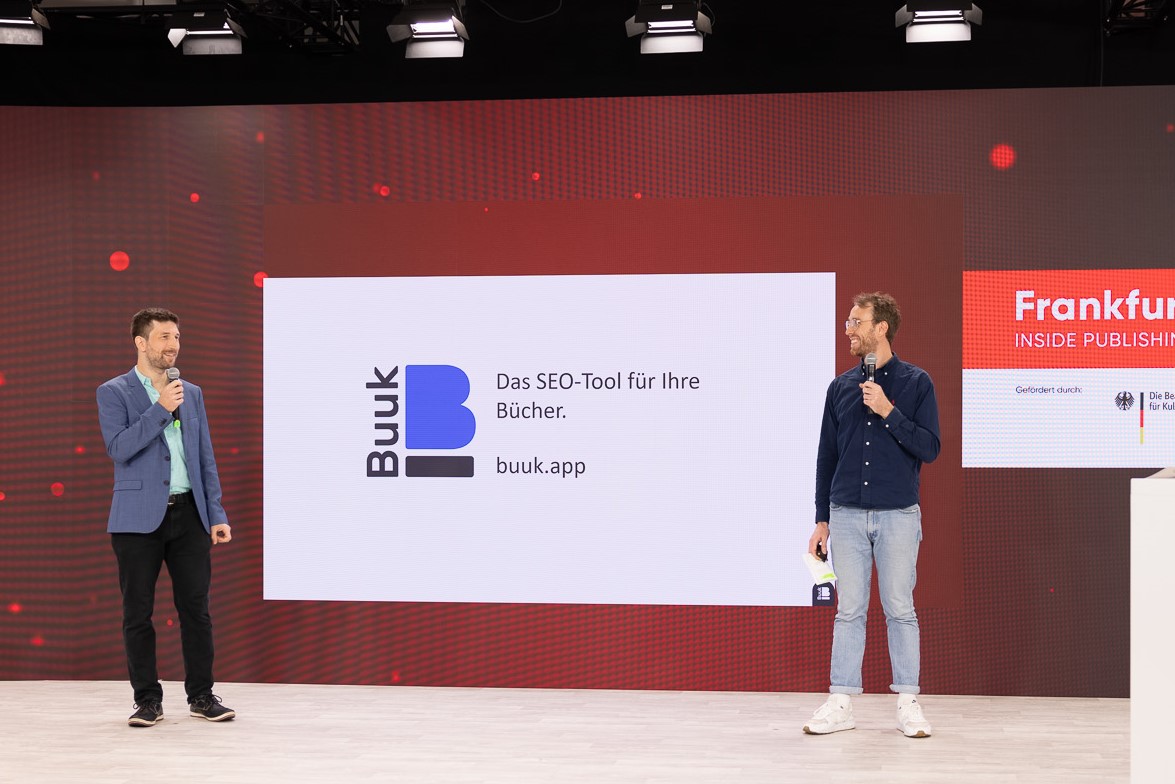 Christopher Klein and Jens Helbig pitching (Buuk)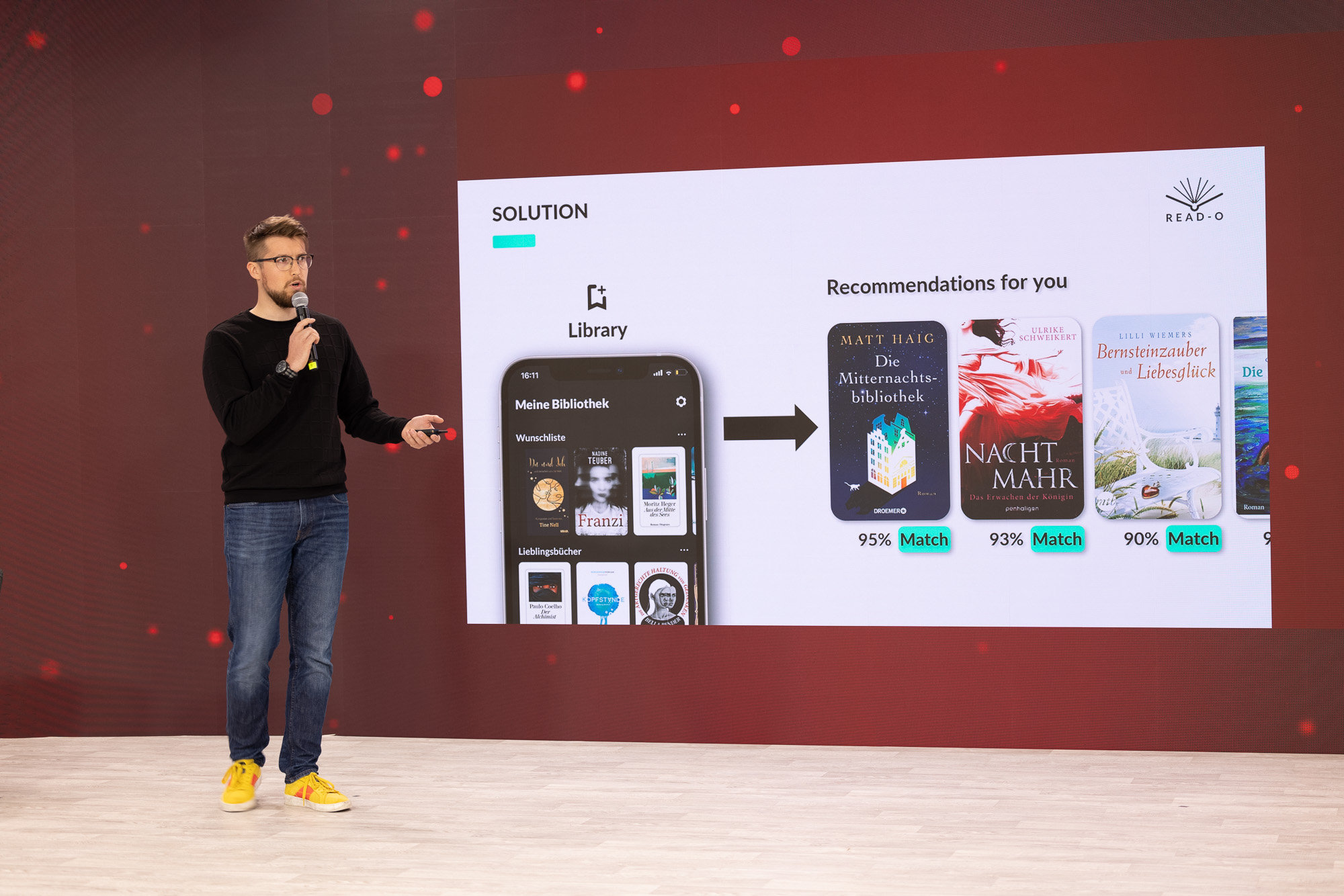 Ben Kohz pitching (READ-O)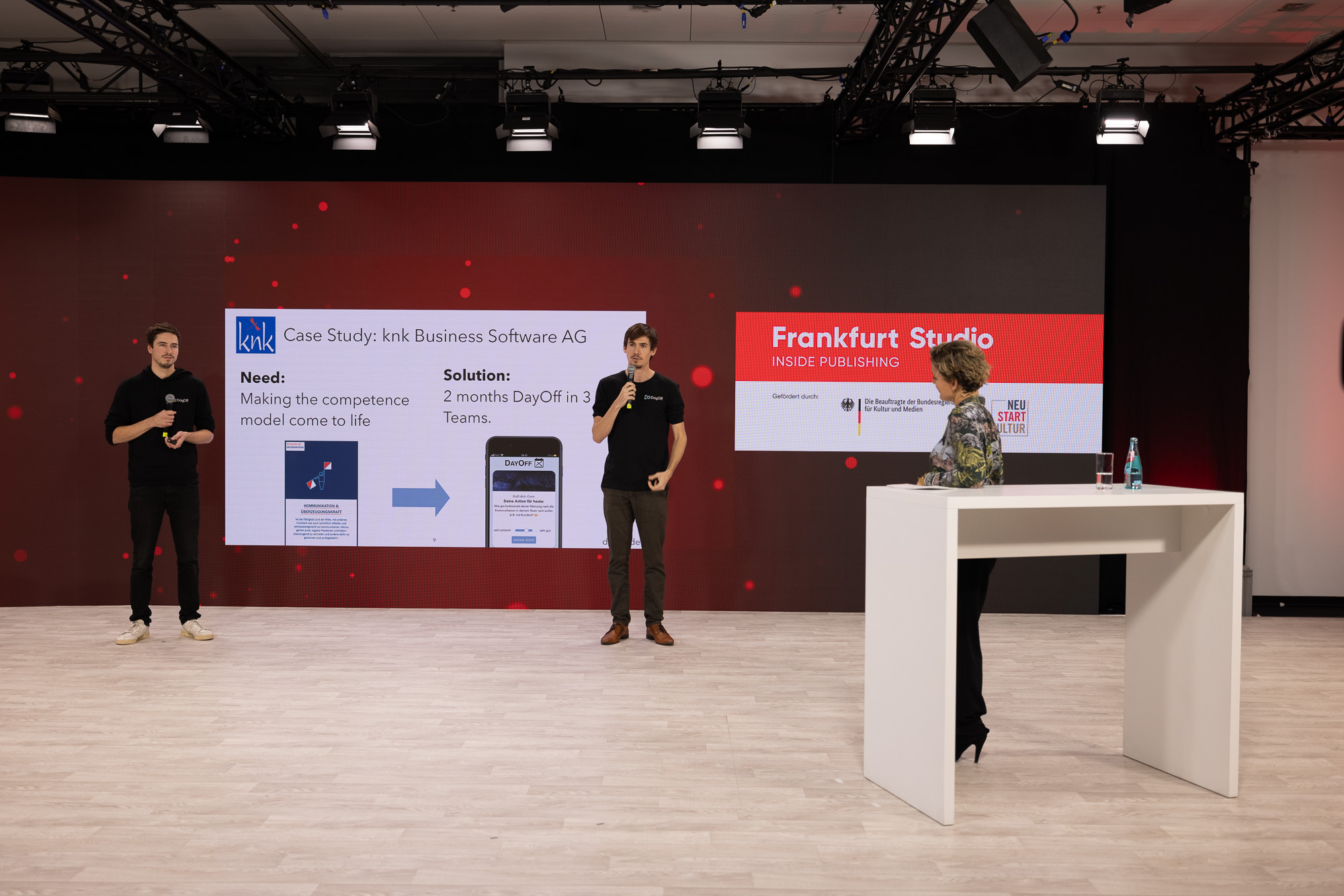 Lino Toran Jenner and Corin Freyer pitching (DayOff)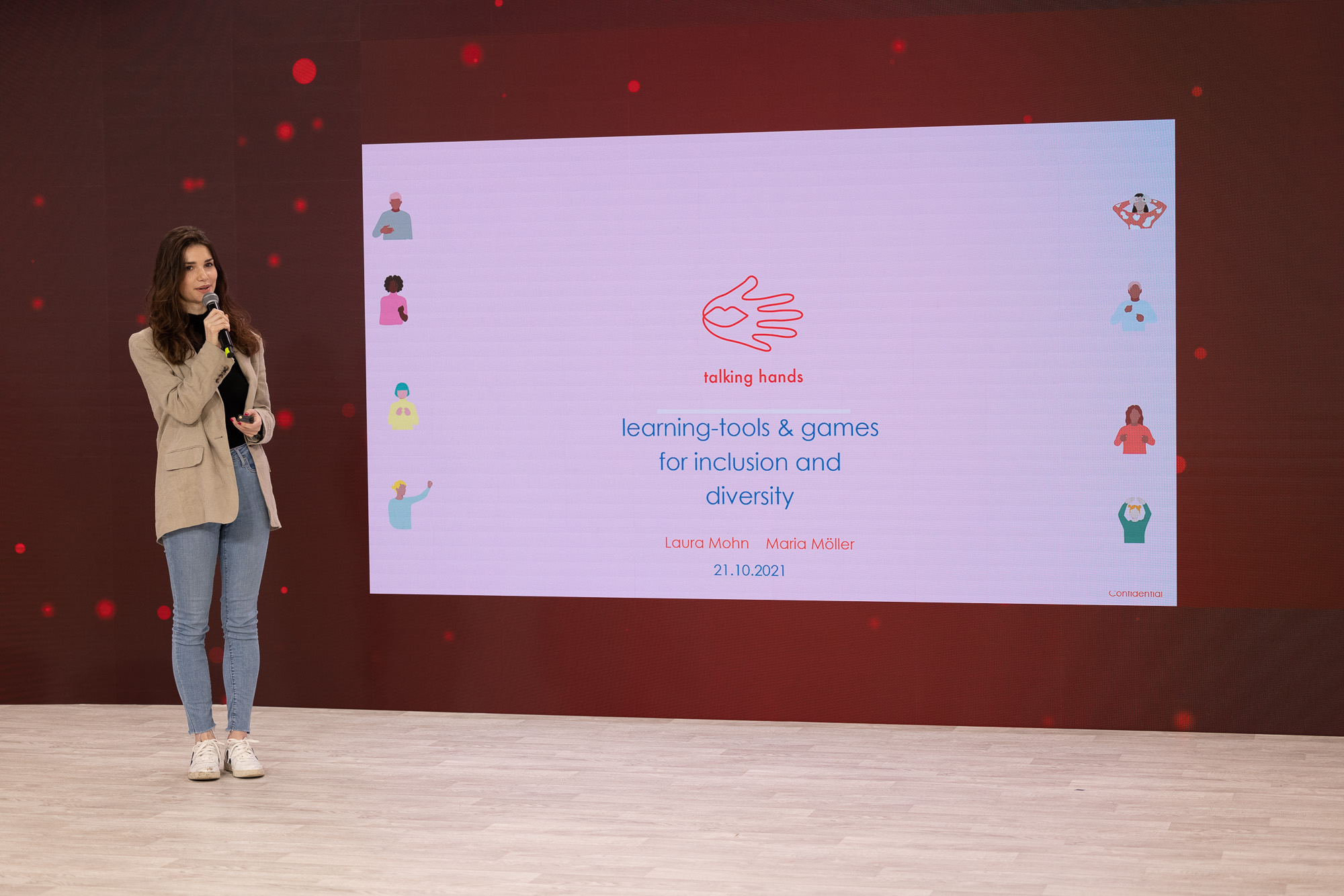 Maria Möller pitching (talking hands)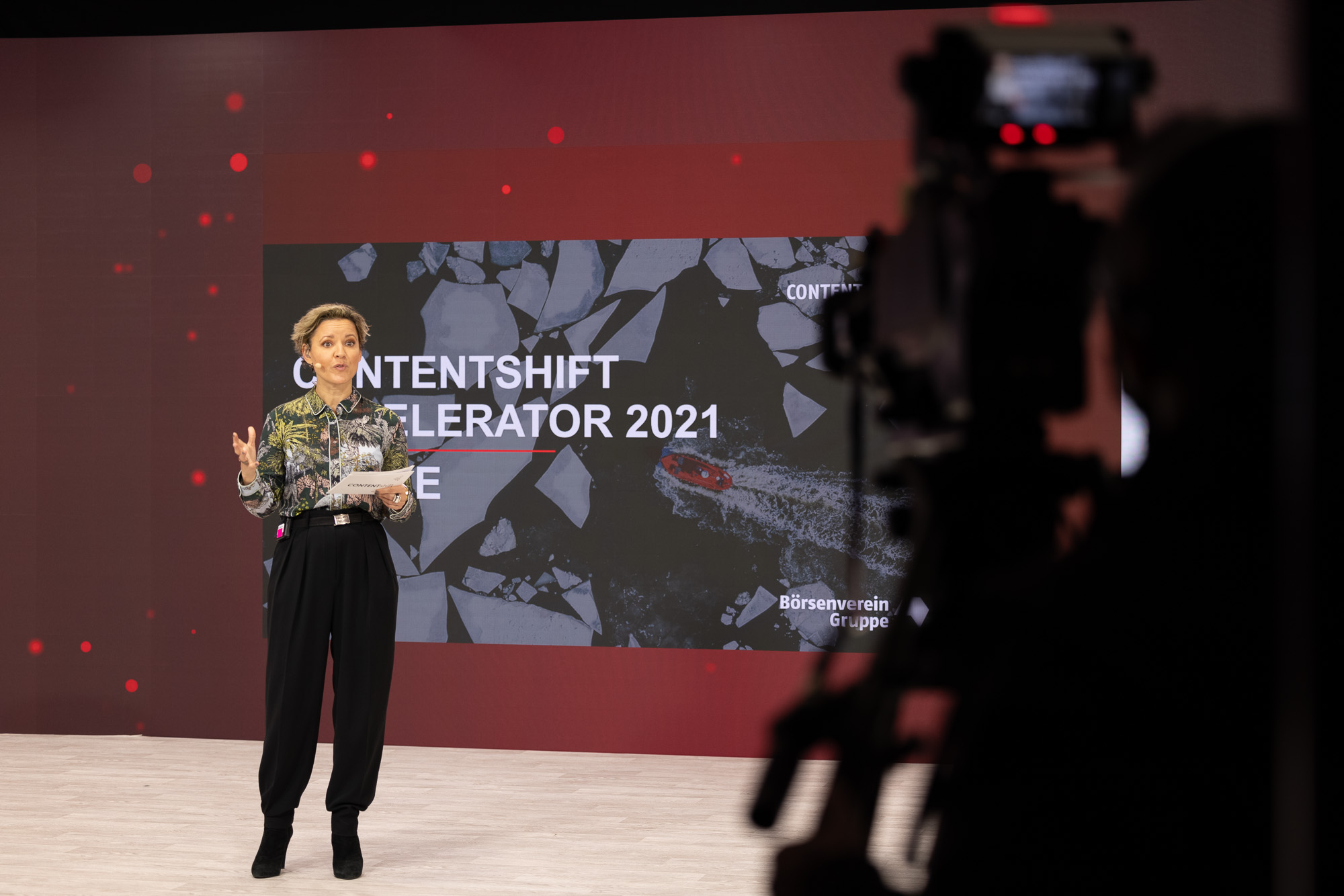 Moderator Sara Kelly-Husain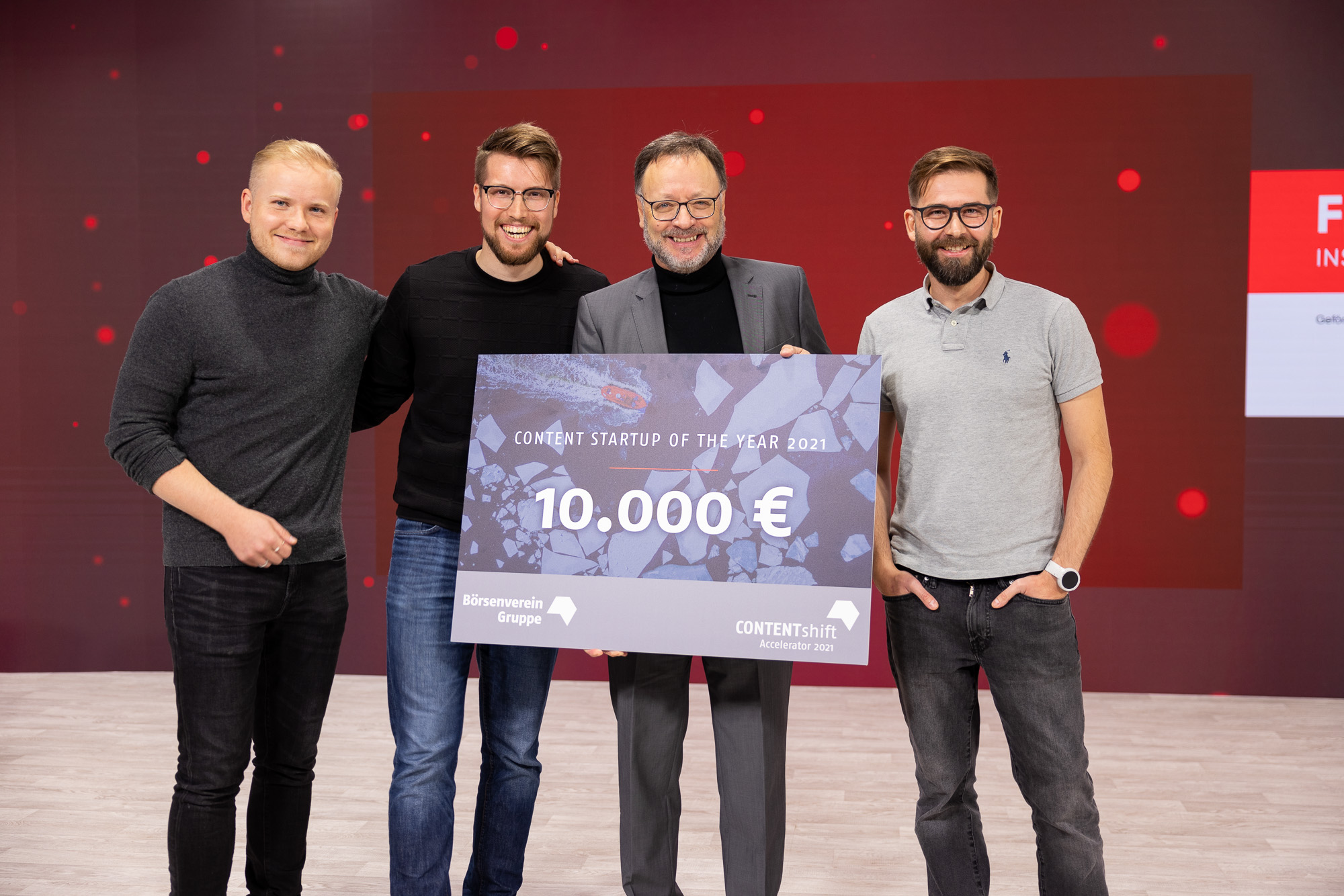 Jonathan Mondorf and Ben Kohz (Read-O), Jury spokesman Olaf Carstens (Cornelsen), Andrey Esaulov (BotTalk)
Here's what Ben Kohz (COO of READ-O) and Rebecca Wahrlich (Head of Sales at BotTalk) had to say about becoming co-recipients of the award:
How does your startup contribute to the digital transformation of the book industry?
Ben Kohz: The simple fact is that the book industry still doesn't offer high-quality digital book recommendations, plus it's also lacking a modern digital book community. We want to fill those gaps and bring books back into everyone's everyday lives. Our key goal is to make a book lover out of each and every individual by recommending books that really fit their personalities and needs. When a person reads a book that is perfectly suited to their tastes, it not only kindles their desire to read, it also provides them with a break in their otherwise stressful everyday lives and fosters a sense of hope, courage and understanding.
Rebecca Wahrlich: One of the most important factors with the potential to drive the transformation of the book industry today is the ability to easily adapt content to new formats. The booming podcast market shows us that users are consuming more and more audio formats instead of reading. In this context, BotTalk's text-to-speech technology provides a cost-effective approach and scalable solutions that can help to make all texts audible in the future.
What were you looking to achieve by participating in the competition? Did you expect to actually win?
Rebecca Wahrlich: Of course, when you participate in a competition, you always hope you'll win. Still, the most important element for us was the opportunity to engage directly with publishers; this contact allowed us to adjust our product to fit their particular needs. We also received tremendous input from the mentors and coaches, plus we gained a lot just by being among the other startups. And, for sure, the fact that we actually came out on top in the end was a great way to finish.
Ben Kohz: Our startup provides solutions to one of the biggest issues in the today's book industry, so we knew we had a good chance at winning. But the other startups this year also had great ideas and approaches, so the competition was exciting right up until the very last minute.
In what ways does winning the CONTENTshift Accelerator impact your future? What are your next steps?
Ben Kohz: The CONTENTshift competition is a big deal in the book industry. Our win here, plus the feedback we got from the jury, showed us that we're absolutely on the right track. In the next few months, we're going to focus on the book community theme. We're eager to create a modern platform where book lovers can feel at home.
Rebecca Wahrlich: The knowledge we gained and the contacts we established over the past several months have already led to new projects that we're now putting into practice. For example, one next step is to make traditional formats like print magazines audible and provide them with audio content. In the same vein, the attention we received in and around CONTENTshift provided a great opportunity for us to make even more publishers aware of the solutions we offer.
Text: Isabella A. Caldart

Pictures: vntr.media
---
You can also find us here