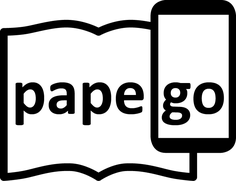 The battle has come to an end and the jury has made its decision: Papego is the winner of the CONTENTshift 2016 and the proud bearer of the title "Content Startup of the Year". Jury spokesman Michael Adams explained the choice at the Frankfurt Book Fair this afternoon: "Papego has the potential to become an industry standard both at a national and international level, plus it creates an essential bridge between analogue and physical books". Papego's founder, Karl-Ludwig von Wendt, was delighted to get the news. In his acceptance speech, he said "I'm very happy, and if I could, I would divvy up the check into six parts and share it with my fellow nominee startups". The CONTENTshift prize is endowed with €10,000.
The Papego app makes it possible to continue reading print books on smartphones or tablets. Users only need to take a photo with their smartphone of the last page they read in their book; after that they will be able to read up to 25% of the book on their mobile device. Conversely, the E-Reading app displays the page number of the paper book. The industry has already recognised the potential of the idea: Papego-ready books are currently being issued by the German publishers Piper and Berlin Verlag.
Despite not winning the top prize, the five other shortlisted nominees will still be able to benefit from participating in CONTENTshift. Beemgee (software for structuring and visualising narrative content), Booktype – Omnibook (online platform for authors to write books together), Brainyoo (educational software & mobile app), Polynaut (search engine in web shops as clusters and mind-maps) and SatoshiPay (online payment system for digital content) will be invited to become members of the Börsenverein's startup club for free for one full year, so that they can continue to develop the contacts and ideas they've already established.
CONTENTshift will enter its second round next year, and companies are already invited now to get involved in the project as investors; in fact, a €10,000 investment entitles your company a spot on the jury.
---
You can also find us here