Dutch delight: The Utrecht-based startup Immer.App was awarded the top prize at the CONTENTshift accelerator 2022. In this interview, founder Niels 't Hooft talks about his experience at this year's competition.
Gefeliciteerd! Niels 't Hooft and his team have now received €10,000 in prize money alongside valuable coaching sessions and many new contacts to the German book industry. Beating out 38 other startups from a total of three continents, the team's Immer.App was named Startup of the Year at the CONTENTshift accelerator 2022 and promises to be a game-changer in the realm of digital reading on small devices.
CONTENTshift jury spokesperson Stefanie Penck (TeNeues Verlag) described the winning app's business model as "convincing, comprehensible and definitely disruptive for the industry". Penck commended the team for charting an "impressive learning curve" in the course of the accelerator programme. Above all else, she noted, the app held the potential to deliver considerable added value to the entire book industry by offering "new and reasonably sized text portions" that are easier to read than "the often large units of text we've known to date". On behalf of the jury, Penck predicted that "the data and information collected by the app, especially with regard to consumers' reading habits, will be very helpful input for the industry".
The other startups that made it to the final round of the CONTENTshift accelerator in 2022 were ACTitude, Enna and Heimsafari. And, in addition to Penck, the other members of this year's jury included Detlef Büttner and Leif Göritz (Lehmanns Media/Thalia Buchhandlung), Olaf Carstens (Cornelsen Verlag), Stephan Dietrich (Junfermann Verlag), Nina Hugendubel and Per Dalheimer (Hugendubel Buchhandlung), Wolfgang Pichler (MANZ Verlag und Buchhandlung), Ronald Schild (MVB), Peter Kraus vom Cleff (Börsenverein) and Deepa Gautam-Nigge (SAP Next-Gen Innovation Network), who functioned as a non-book-industry partner to the programme.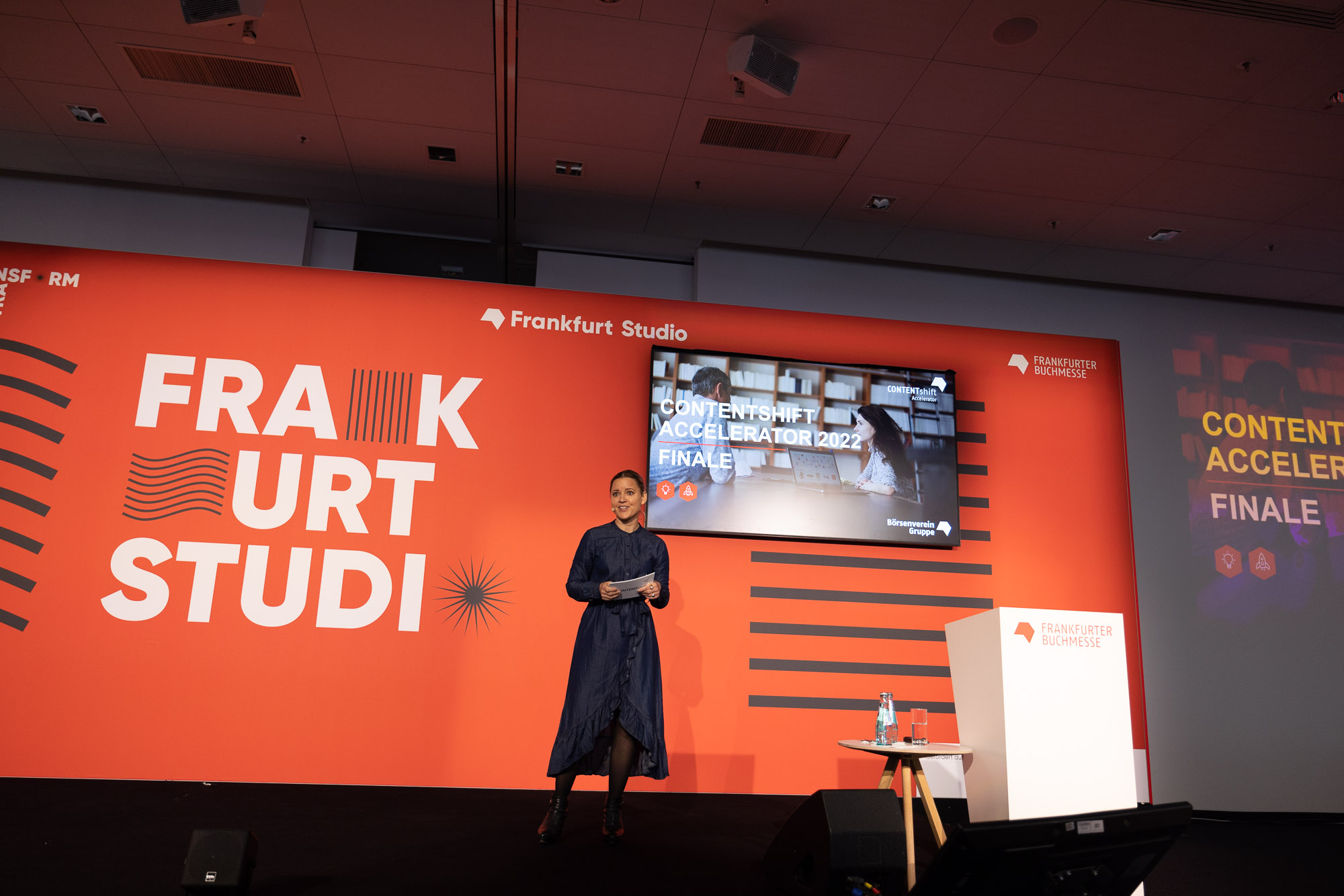 Moderator Sara Hussain is greeting the audience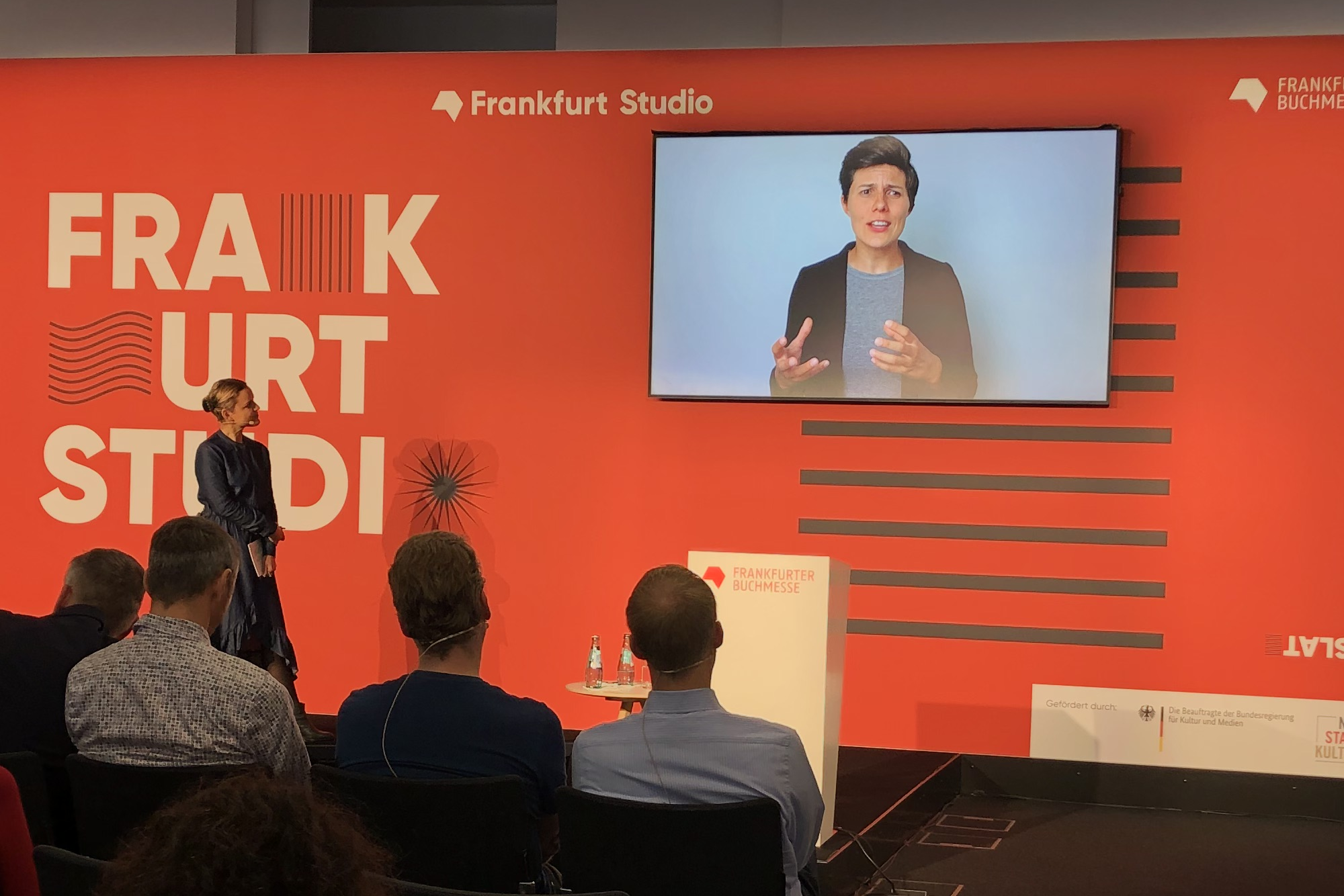 Diana Huth in her pitch-video (ACTitude)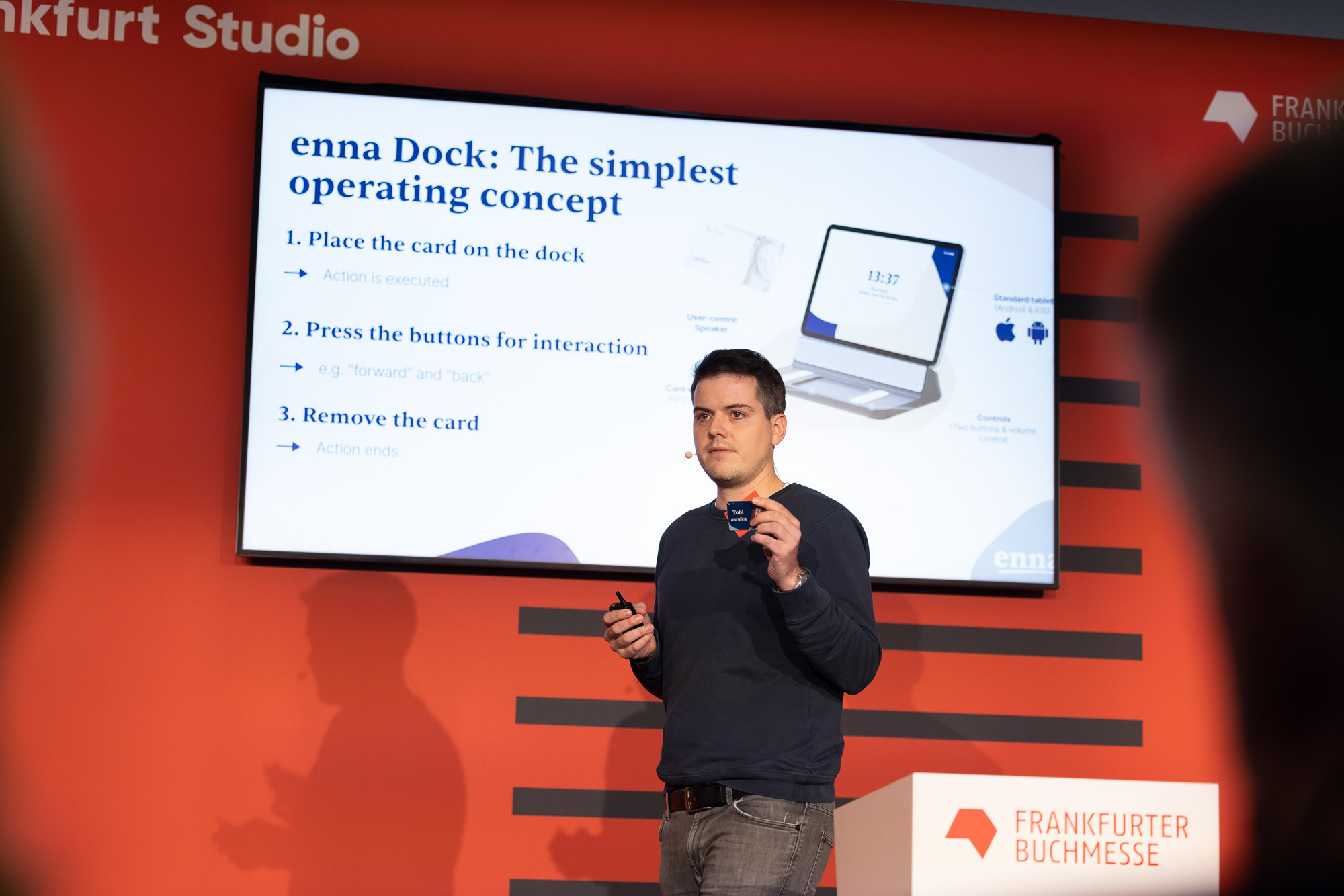 Toby Bily pitching enna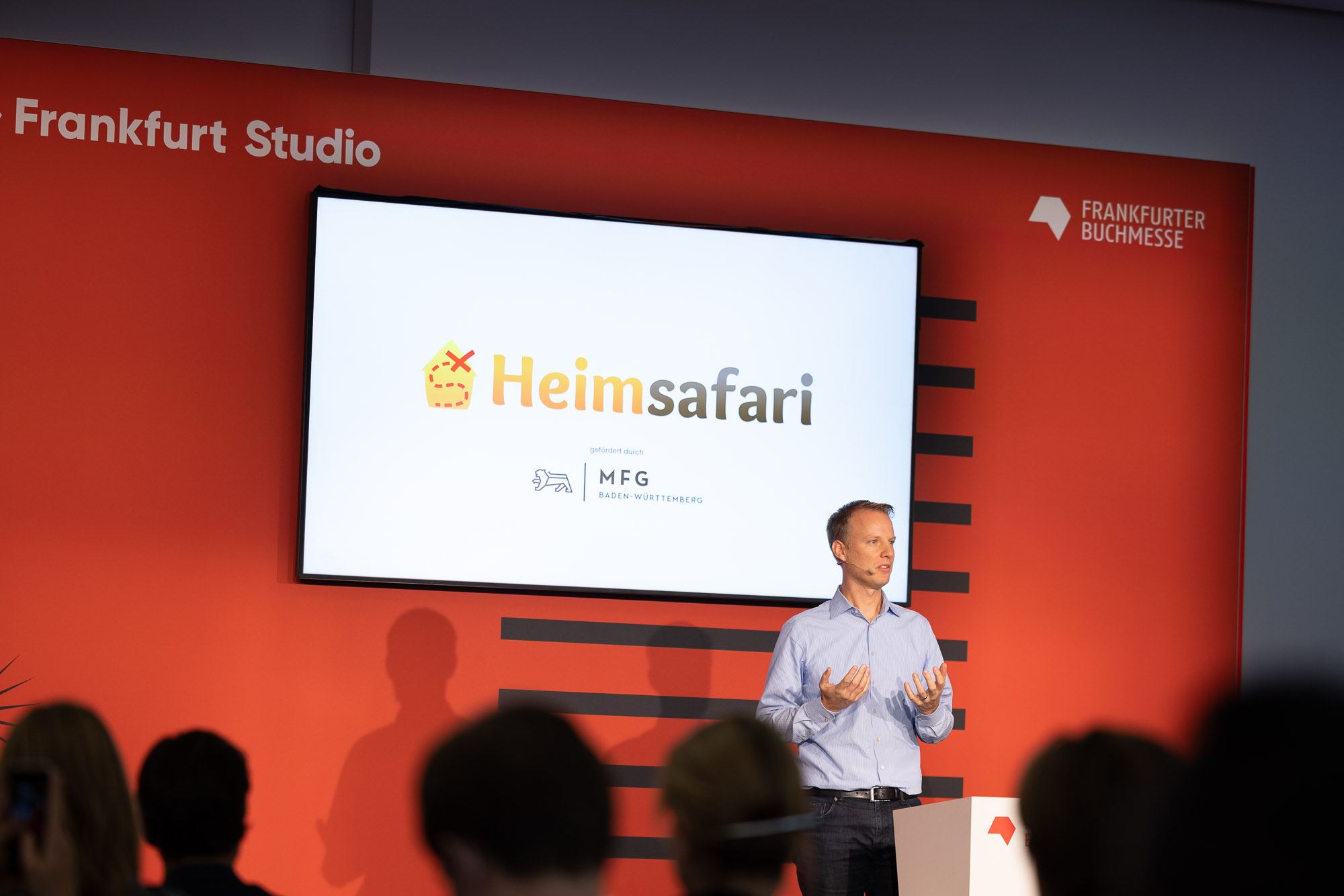 Johannes Wöhler pitching Heimsafari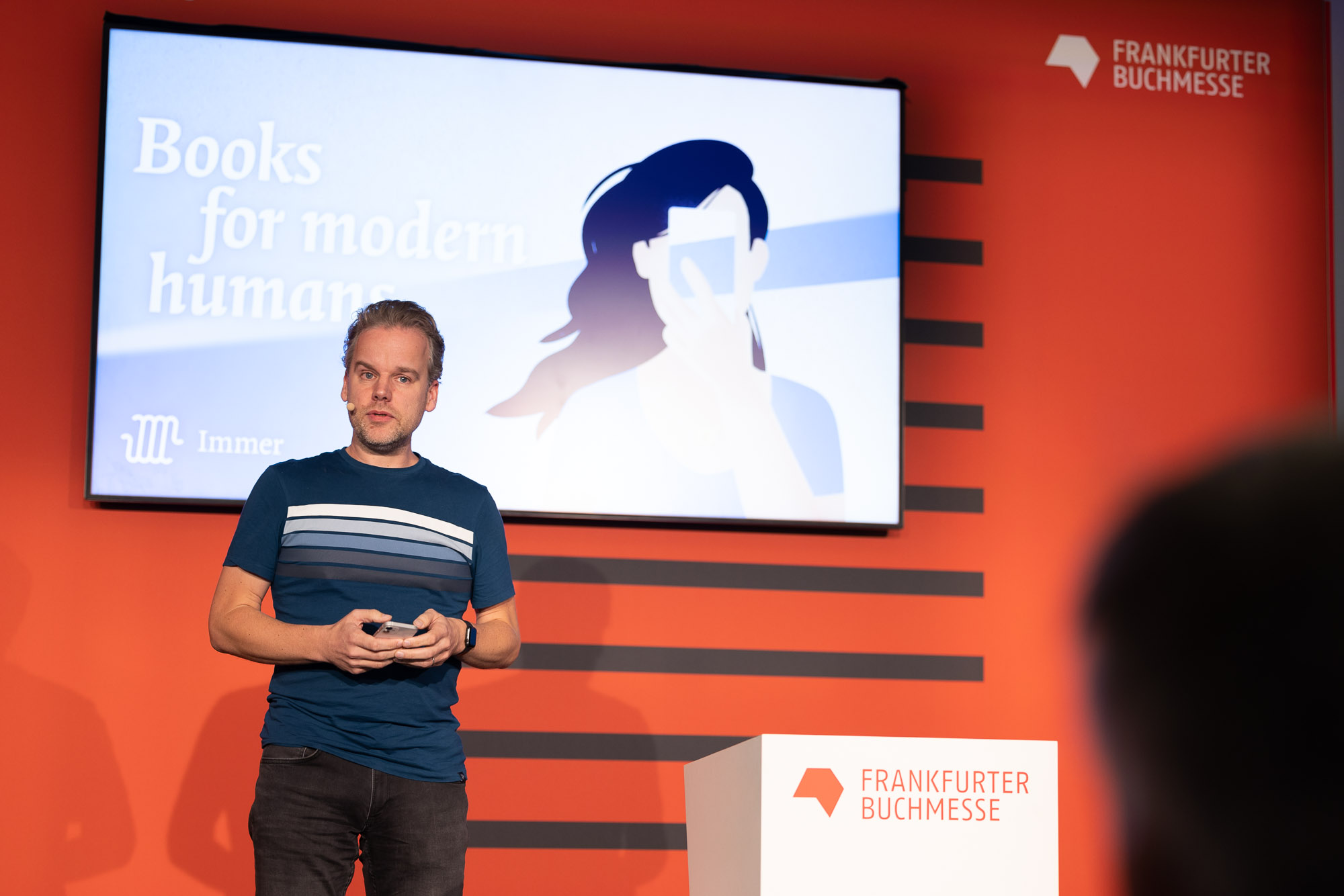 Niels 't Hooft pitching ImmerApp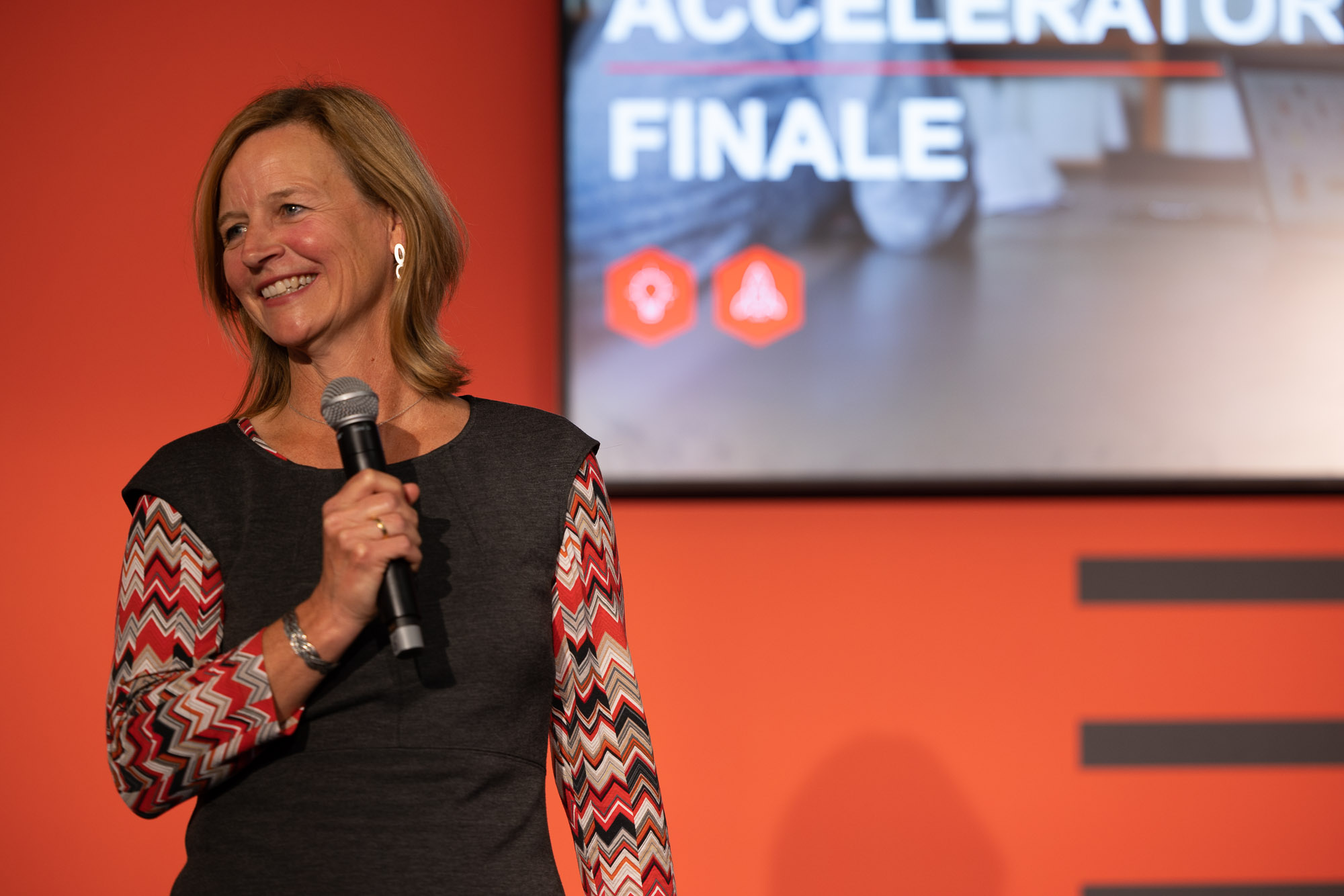 Juryspokesperson Stefanie Penck (teNeues) announcing the winner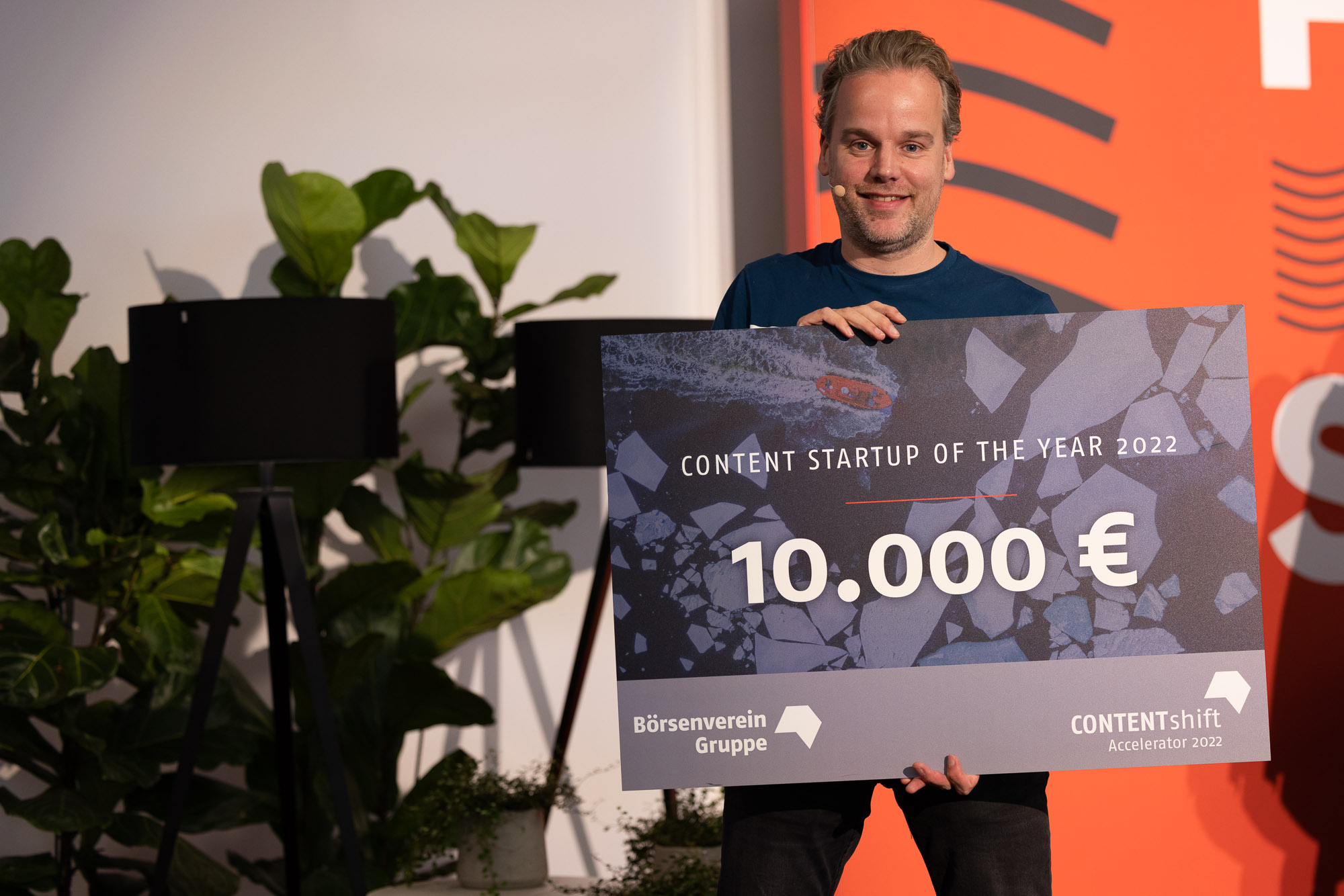 Winner ImmerApp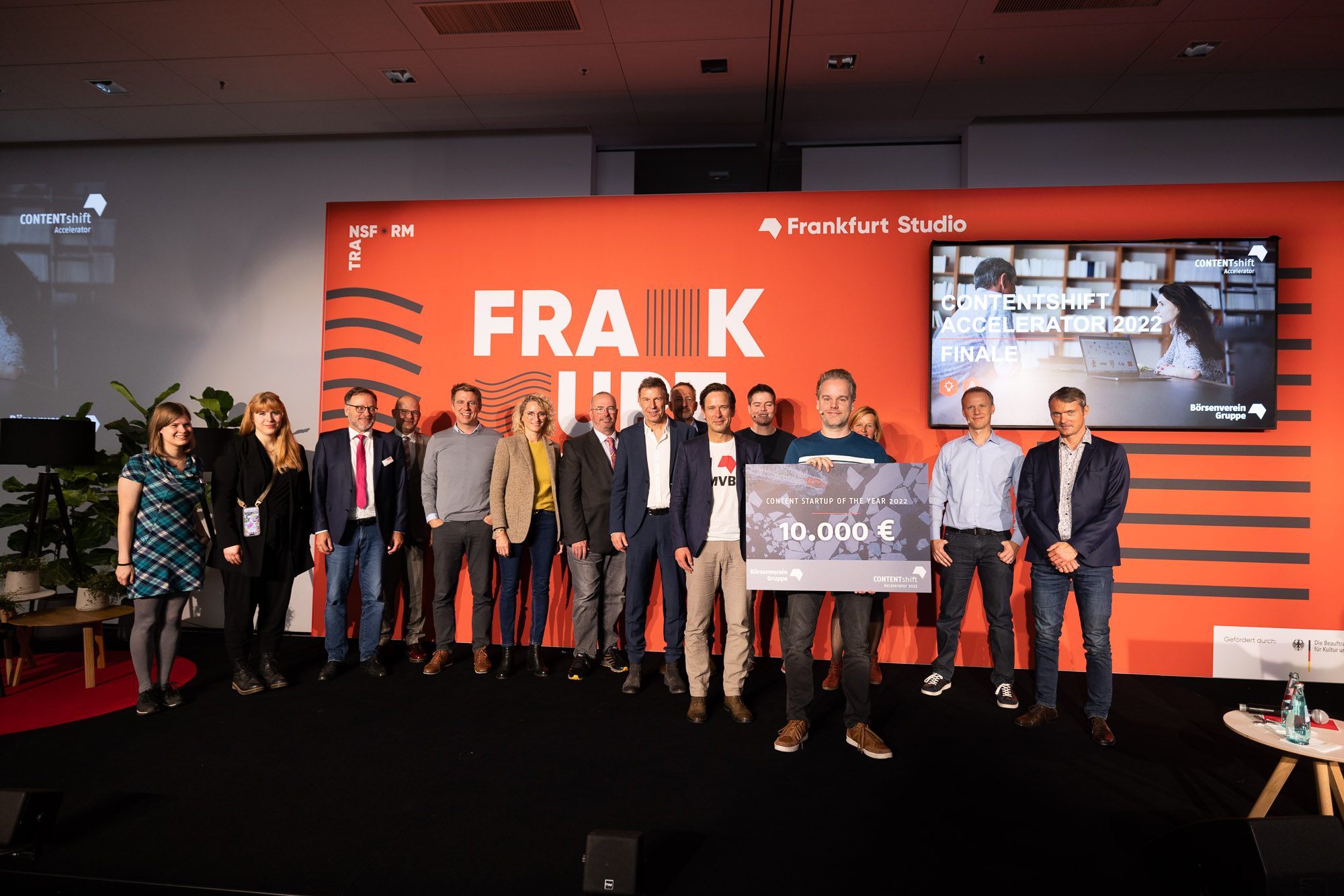 Group picture of the CONTENTshift accelerator round 2022
Niels, what were you looking to achieve by participating in the CONTENTshift accelerator?
It's difficult to say what we wanted to achieve at the beginning. We'd never really heard of the CONTENTshift accelerator before, but then we found out that it was also open to non-German startups, so we were encouraged to apply. Our hope was that we'd get to know potential clients, publishers and key players and perhaps learn more about the German book industry in general. We were also very curious about our fellow participants and eager to meet the members of the jury.
What did you take away from the CONTENTshift accelerator workshop?
The workshop in Frankfurt lasted for almost one week in September and helped us make the key decision to place greater focus on the technological aspect of our Immer.App. We'd started out with the idea of creating an app that would sell books to customers, but then we realised that it's our innovative technology that makes us truly unique. Our tech is a helpful tool that can be used by any company or institution that offers customers long texts, because it makes the process of reading on small digital devices much easier. During the workshop week, we had some very interesting discussions that helped us move in the right direction. It was a pretty big step and a somewhat scary change in direction, so we were a bit hesitant at first. But we learned a lot from the jury members and coaches that helped us make the shift. In this sense, CONTENTshift is the perfect name for the programme!
Did you think you'd actually win the CONTENTshift accelerator 2022?
It was hard to know what exactly the jury was looking for. For example, Enna developed a fantastic product for older people, and they also opened up a new target group, so it would have made a lot of sense to choose them, especially because they're already so advanced in terms of their development. Johannes Wöhler from Heimsafari is a really nice person who's super inquisitive, and the €10,000 would have made a big difference to him, so the jury could easily have chosen him, too. Of course, we were delighted that the jury ultimately chose Immer.App. We provide a solution that makes it easier and more fun to consume books on smaller screens, and this is going to change the way people read in the long term. In general, it was difficult to tell what the jury was going to do. We knew that they'd already met on Tuesday, but we only learned about their final choice two days later on Thursday, so we basically spent the entire time in between trying to interpret any clues we managed to pick up on. (laughs)
What happens next for you and the company?
We're in the process of acquiring funds from investors, plus we had some very interesting meetings at the Frankfurt Book Fair. Of course, we can't know what'll come out of all of this in the end, but so far things are looking really great. The CONTENTshift award is ideal because it makes it easier for us to win over investors; it gives us external proof that we've developed something valuable. At the end of this week, we're off to a conference in San Francisco, where we'll no doubt talk about receiving the prize. After that, our next steps will involve approaching customers in four different user groups, namely schools, digital bookstores, libraries with e-book lending services and professional readers, such as lawyers, who have jobs that involve a lot of reading. Our task will then be to create specific pilot projects for each of these user groups.
Text: Isabella A. Caldart

Bilder: vntr.media
---
You can also find us here