"The CONTENTshift accelerator proved to be a true powerhouse for new ideas and project implementation"
The jury of this year's CONTENTshift accelerator has made its final choice! Our warmest congratulations go out to SciFlow, which can now officially call itself "Content Startup of the Year 2020"! In contrast to previous years, the 2020 final did not take place on the grounds of the Frankfurt Book Fair, but instead at the "Haus des Buches" (House of the book) in downtown Frankfurt. The business model of this year's winner centres on a collaborative online text editor that allows users to create, edit and format scientific texts in a team.
SciFlow won out over four other industry newcomers, all of whom showed tremendous potential and embodied a wealth of innovative ideas for the CONTENT sector; artificial connect GmbH enables automated content creation and distribution for use by media companies and regional event organisers; PlusPlural created a hybrid of book and tactile educational toy that functions as a barrier-free medium for blind and sighted children; Scriptbakery Al provides a digital, AI-based solution for reviewing, managing and analysing submitted manuscripts; and Questlog makes wooden storage boxes that bring together analogue and digital travel memories with the help of Cloud folders in the lid. The race among our five finalists was close, but now the decision has been made.
"SciFlow is the future of science publishing", noted jury spokesperson Carmen Udina, Head of Business Development and Cooperation at Oetinger Publishing Group, when asked about the final choice. "Carsten Borchert and his team simplify and streamline collaborative creation and the expert-based evaluation of content. Their highly convincing business model has already garnered them several high-ranking research institutes as clients, and they even created an additional business model for open publishing during the course of the competition. In the context of the mentoring sessions, the members of the startup team were able to network with industry players and enter into partnerships".
SciFlow co-founder Carsten Borchert was delighted about his company's win: "Over the past few months, the CONTENTshift accelerator proved to be a true powerhouse for new ideas and project implementation, and we're very grateful to have gained new cooperation partners and generated a number of new project approaches". As the winning startup, SciFlow will now go home with €10,000 in prize money.
The award ceremony for the "Content Startup of the Year" marks the highpoint of this year's CONTENTshift accelerator. The competition will continue in 2021, and we're eager to welcome new companies as investors in our programme next year. It's definitely worthwhile, seeing as investors receive a spot on the jury and thus exclusive access to all startups that submit an application. We're already looking forward to next year!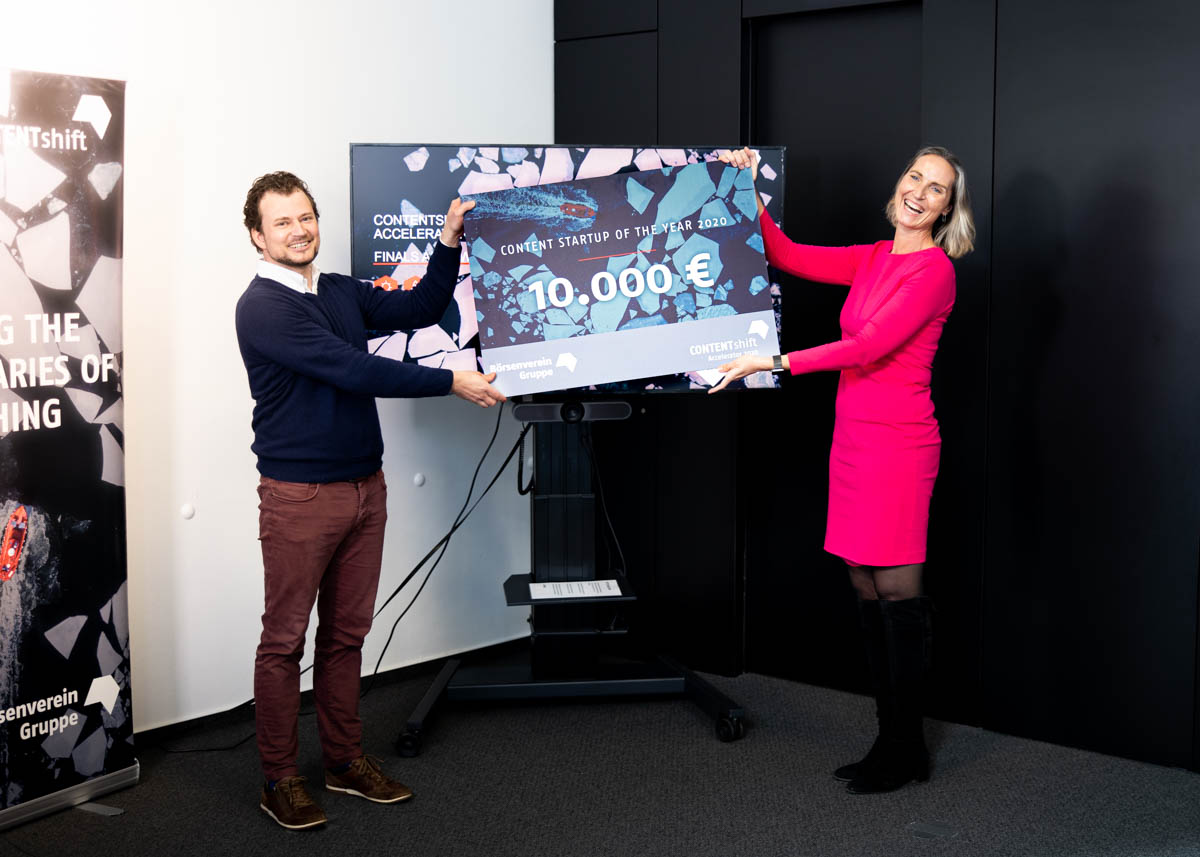 Dr. Carsten Borchert (SciFlow) und Carmen Udina (Jury)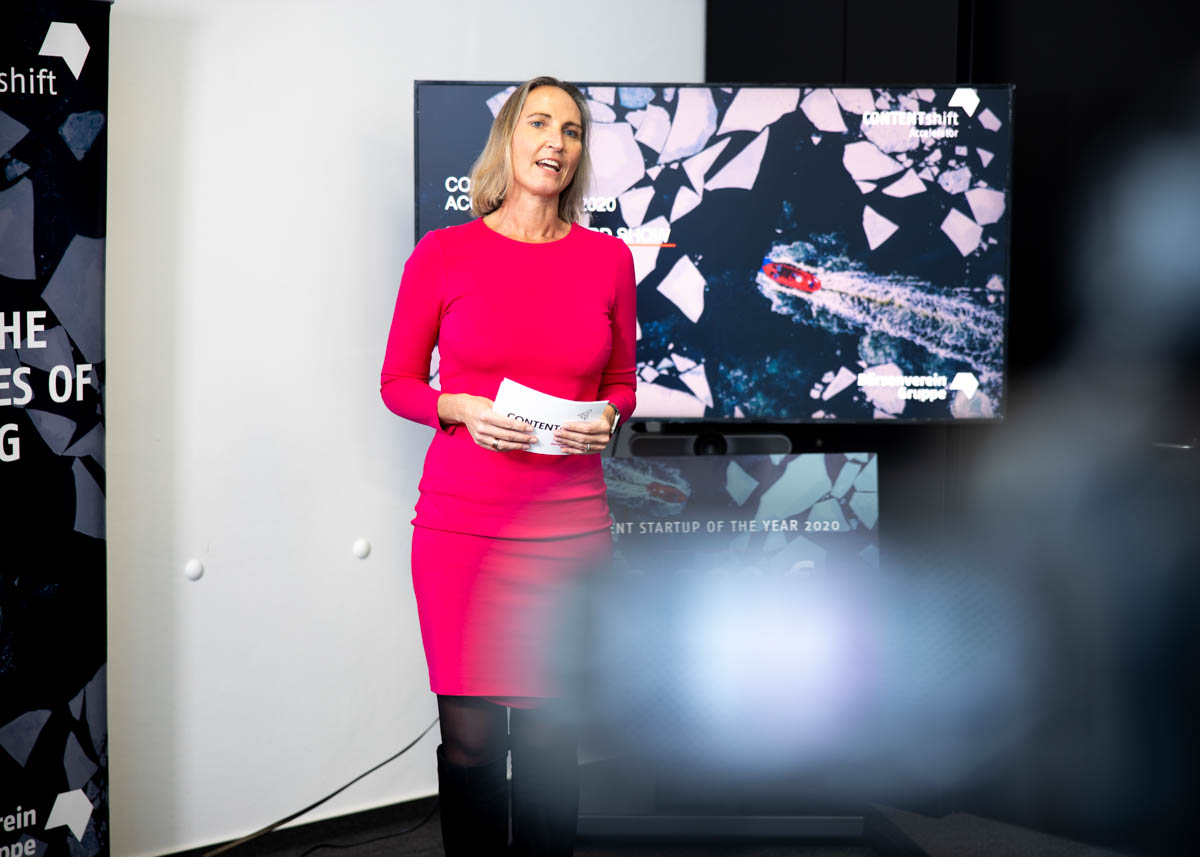 Carmen Udina (Jury) verkündet den Sieger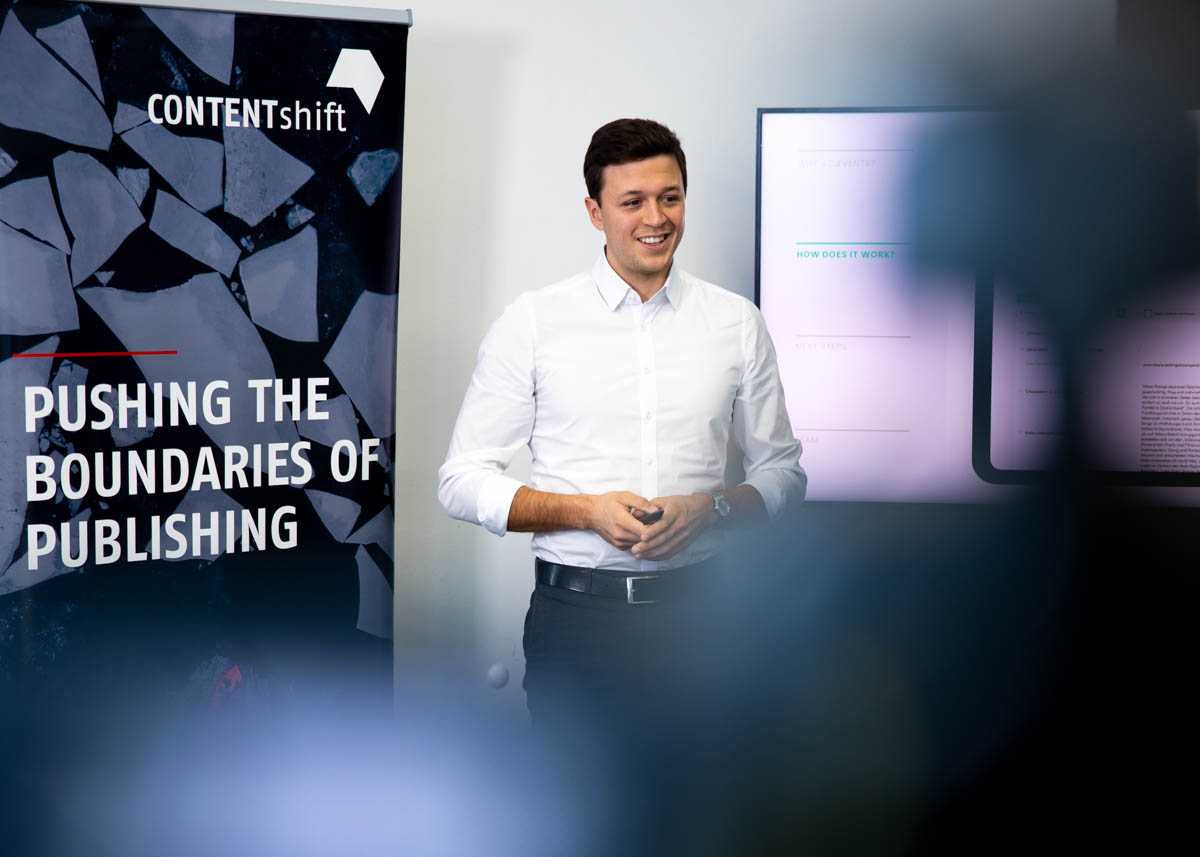 Felix Rolf beim Pitch (Artificial Connect)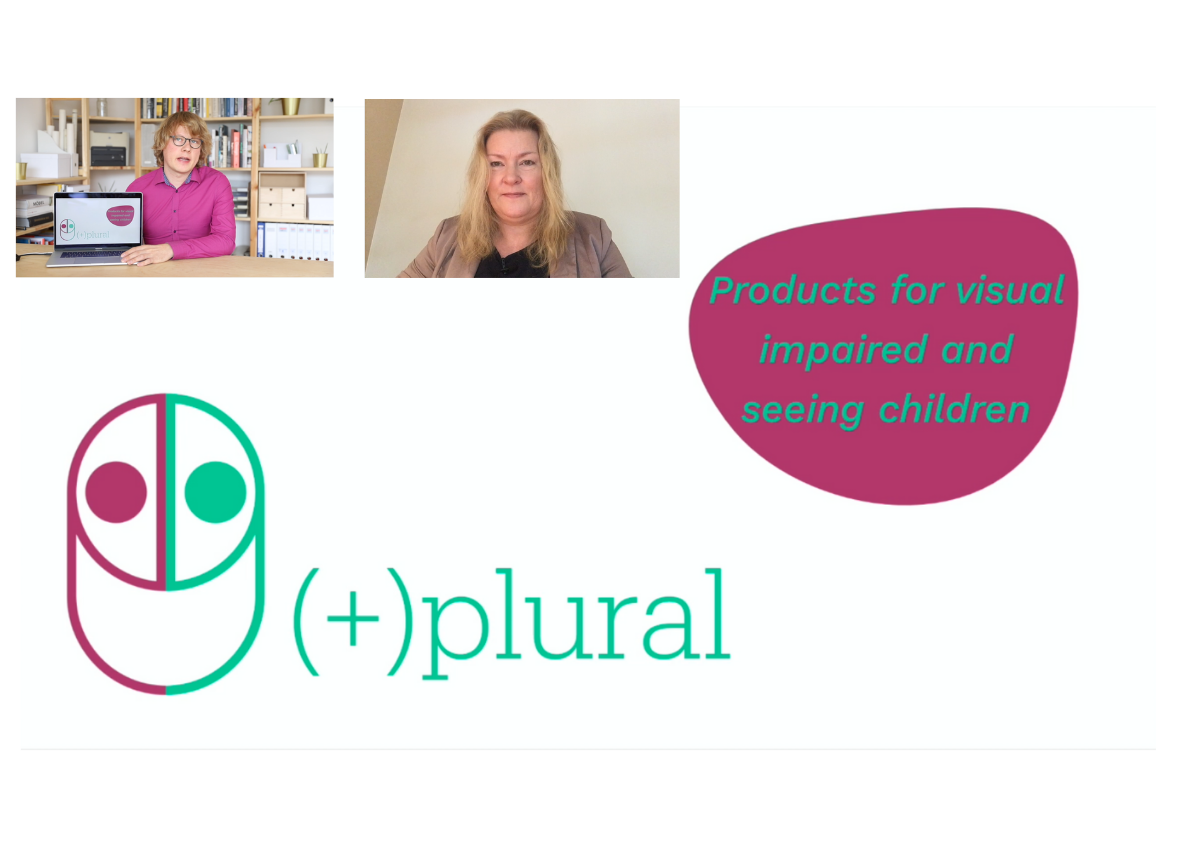 Christina Oskui und Pascal Heußner beim digitalen Pitch (PlusPlural)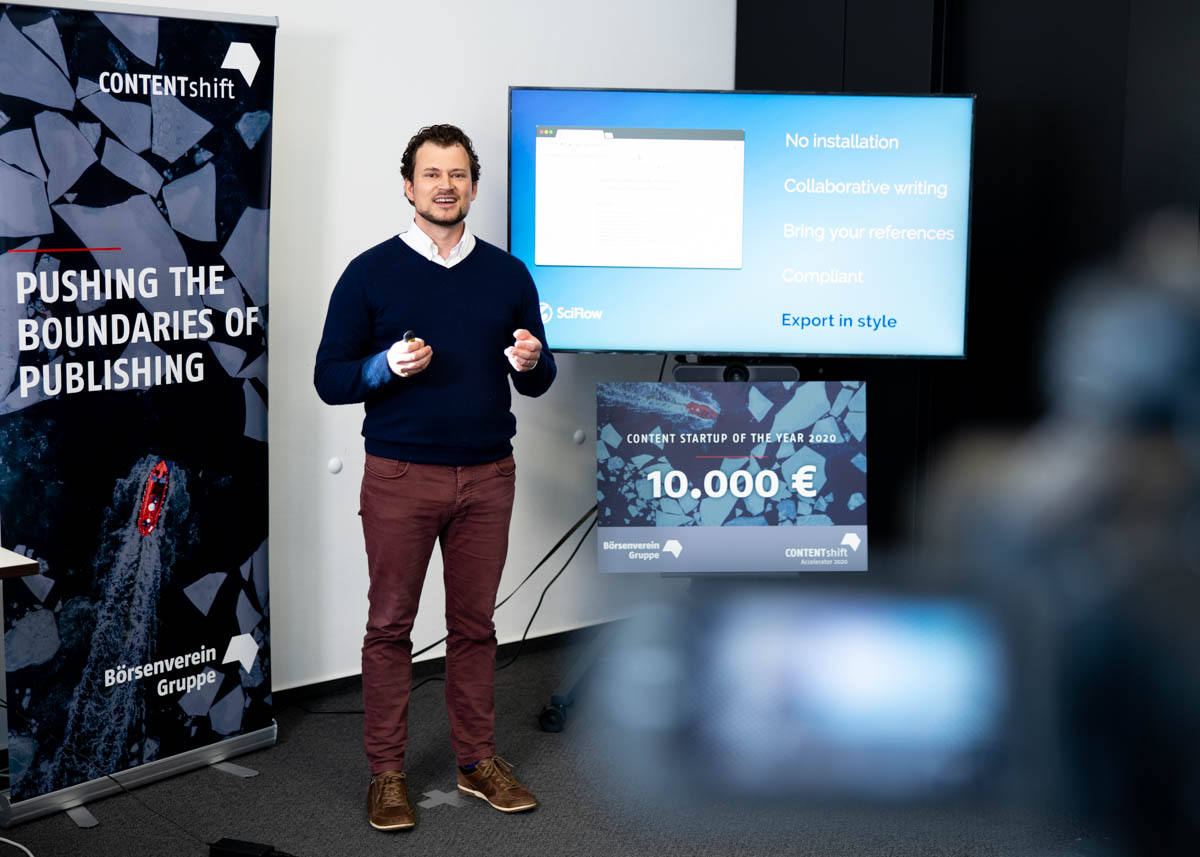 Dr. Carsten Borchert beim Pitch (SciFlow)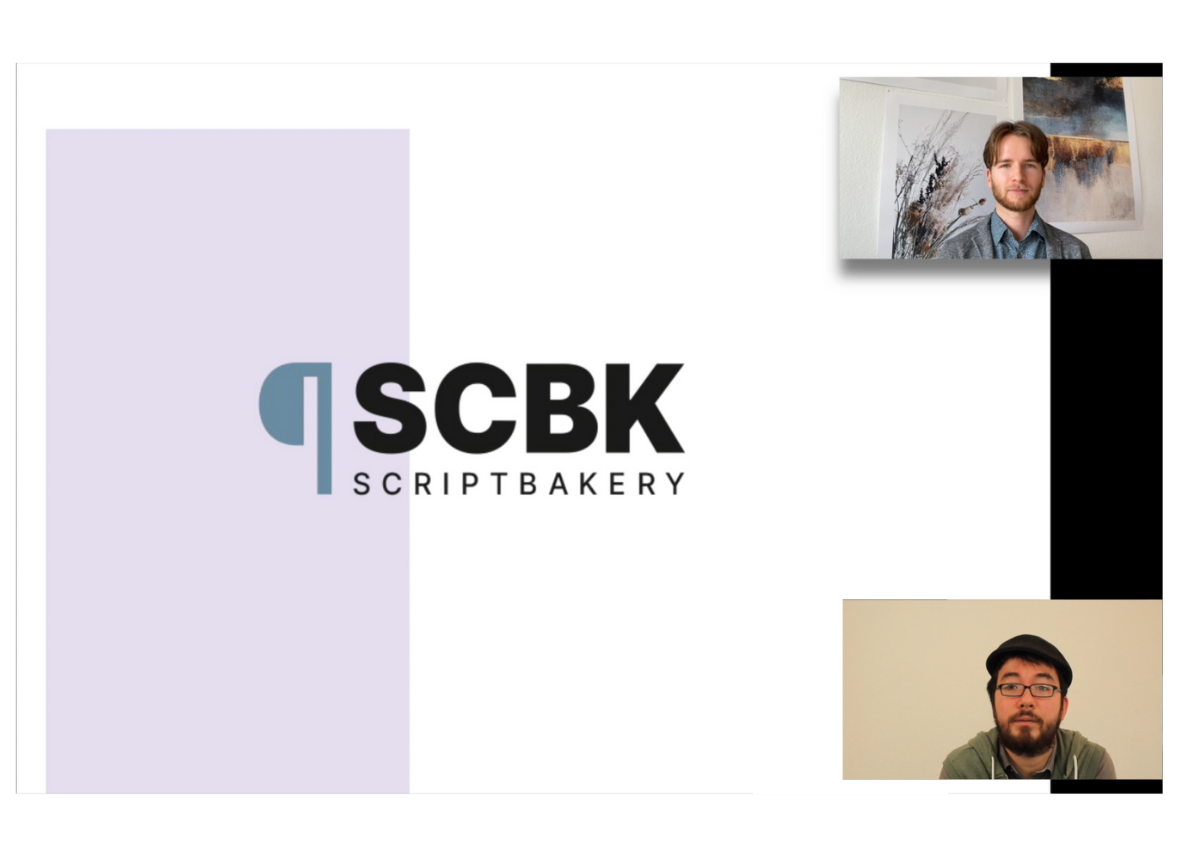 Patrick Kaiser und Tony Franzky beim digitalen Pitch (Scriptbakery AI)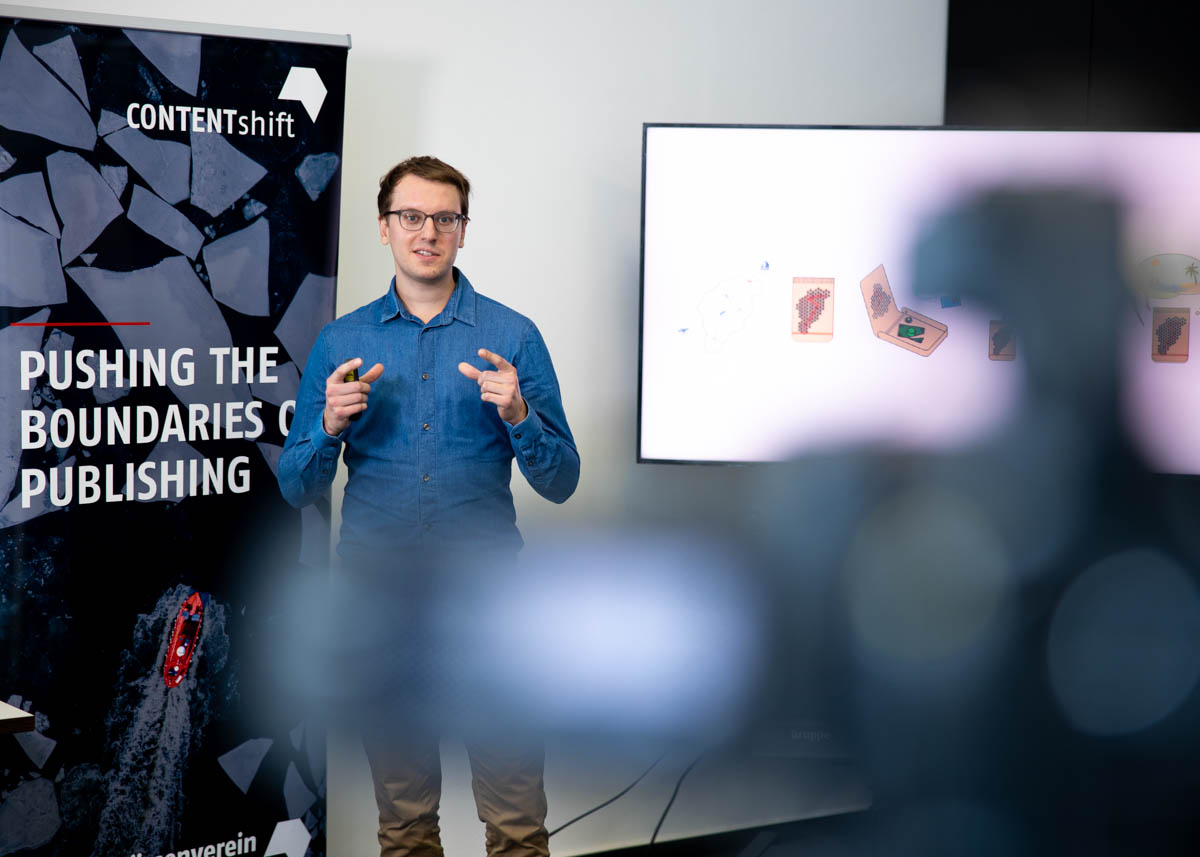 Frederic Geiger beim Pitch (Questlog)
Interview with Carsten Borchert from SciFlow
Congratulations on SciFlow's big win! Due to the COVID-19 pandemic, it's a very unusual year for the CONTENTshift accelerator. How would you describe your experience in the competition this year?
Carsten Borchert: "Our CONTENTshift experience was very valuable overall. Some of the events had to take place virtually; for example, in June, instead of presenting in-person in Frankfurt, we submitted a pitch video. We also answered all of the jury's questions virtually. That was okay, but, of course, it was a little bit harder to network that way. That's why we were so happy that the Workshop Weekend was able to take place in-person in early September. We enjoyed a great exchange of ideas and had lots of discussions with coaches and jury members that led to new approaches to particular projects. Building on those experiences, we were able to further develop our products and enter into concrete cooperation projects with partners such as Cornelsen and Lehmanns Media. That was a tremendous gain".
Did you think you were going to win?
Carsten Borchert: "It was really hard to say. There were so many different startups in the running this year. In any case, we're truly delighted to have won. The jury members are a virtual who's who of the book industry. For us, it's a great honour to have been chosen. And we are definitely going to be able to put the €10,000 in prize money to good use. I highly recommend that other startups take the opportunity to participate in the competition next year".
Where does SciFlow go from here?
Carsten Borchert: "When the winner was announced, our mobile phones started ringing off the hook. There was a lot of action on Twitter, too. We immediately scheduled a webinar that went very well and allowed us to establish a number of contacts. Of course, it would have been great to have had an actual real-life stand at the Frankfurt Book Fair, where people could have visited us in person. But this way we can concentrate even more on our work with our current cooperation partners. We also have other projects in store. We're incredibly happy that there's so much interest in our work".
If things continue to run as positively as they are now – what happens then?
Carsten Borchert: Our goal is to have more universities and research institutes use SciFlow as an official campus license. That would be great. The CONTENTshift accelerator brought us one step forward, and now we're preparing for our next big moves.
Text: Christiane Petersen
Photos and video: vntr.media
---
You can also find us here