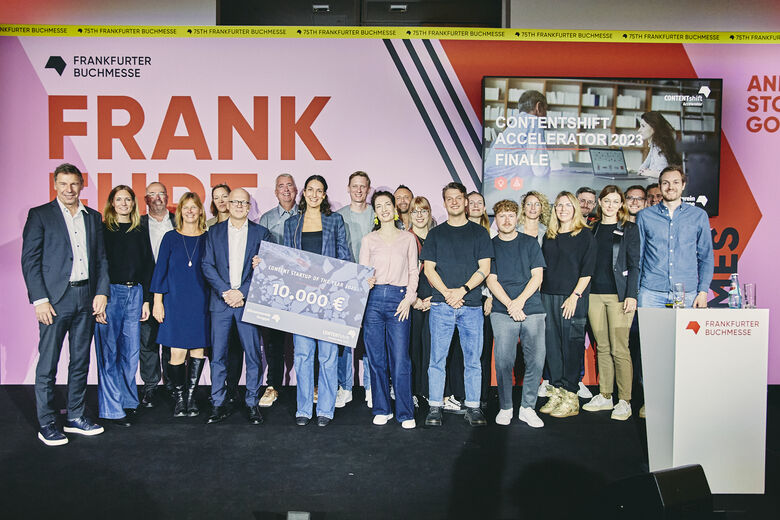 Making it easier for children with dyslexia to improve their reading and writing skills: this was the impressive goal Samantha Merlivat set for herself when she launched GoLexic, an app that has now garnered her the title of Startup of the Year at the CONTENTshift accelerator 2023!
GoLexic was able to prevail against fierce competition from its five fellow nominees – Bookscreener, Lit-X, SUMM AI, to teach and XigXag – and win over the expert jury at this year's CONTENTshift accelerator. The GoLexic app created by Samantha Merlivat was described by Hugendubel Managing Director and CONTENTshift jury spokesperson Per Dalheimer as an "excellent tool for children, parents and teachers". Dalheimer explained further that the winning app "makes it possible for children to learn how to understand texts and make progress independently, at their own personal pace and in small units. With its playful, low-threshold accessibility, the app is something children are actually happy to use, and this experience provides them with key access to books and reading".
Dalheimer was joined on this year's high-calibre CONTENTshift jury by his colleague Nina Hugendubel as well as by Martina Fiddrich and Olaf Carstens (Cornelsen Verlag), Detlef Büttner and Leif Göritz (Lehmanns Media/Thalia Bookstores), Colin Hauer and Magia Ramm (Hörbuch Hamburg), Wolfgang Pichler (MANZ Verlag), Jasmin Ahluwalia and Philipp Neie (Schweitzer Fachinformationen), Stefanie Penck (TeNeues Verlag), and Ronald Schild (MVB) and Lennart Schneider (strategic consultant).
The CONTENTshift accelerator is an initiative launched by the Börsenvereinsgruppe in 2016. Each year, in addition to vying for €10,000 in prize money, the nominated startups focus on establishing strong ties to the book industry and raising awareness for their innovative ideas. Each startup is also invited to participate in workshops designed to take their projects to the next level.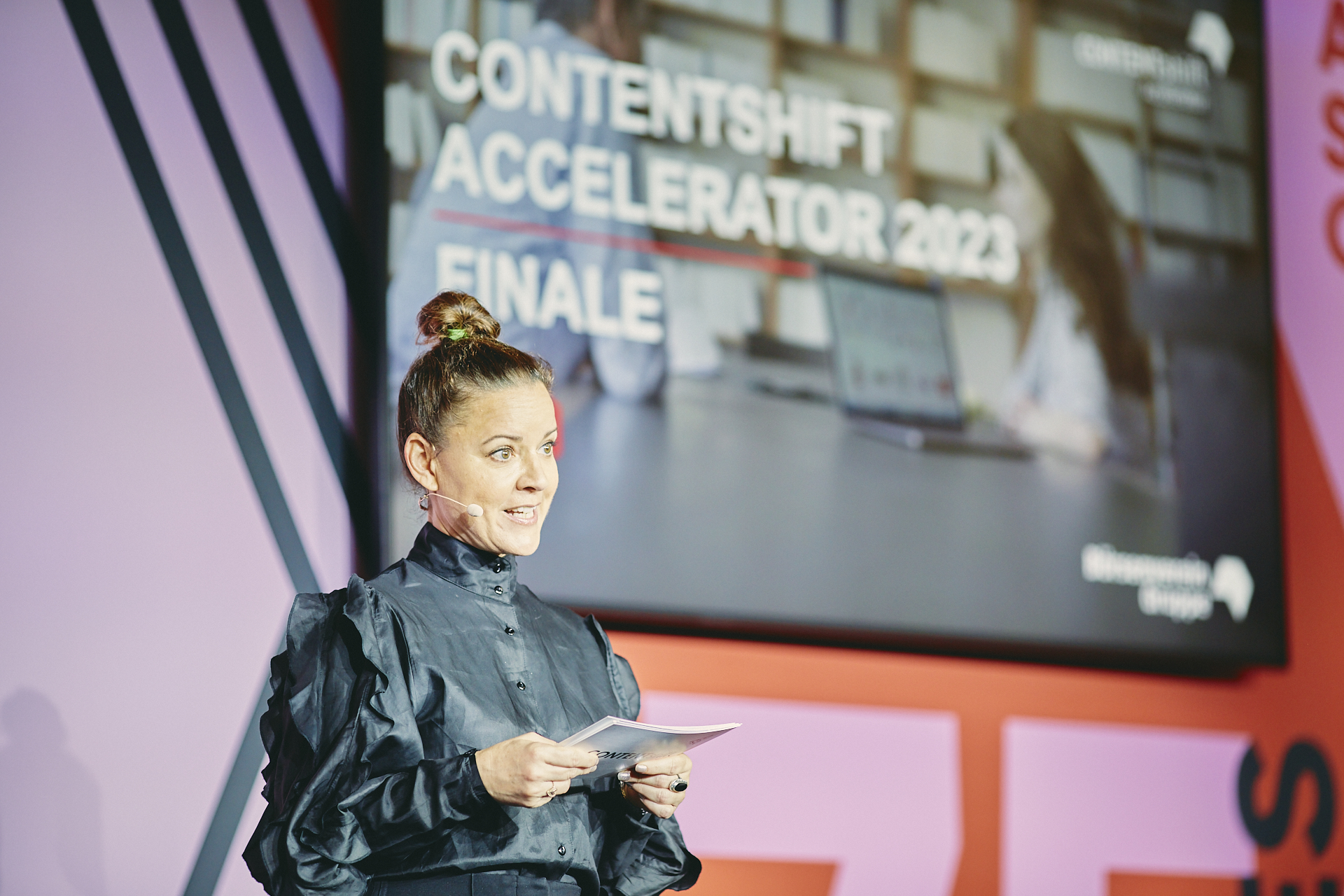 Presenter Sara Hussain welcomes the audience
Veronika Haberler and Peter Melicharek get questions from Sara (Bookscreener)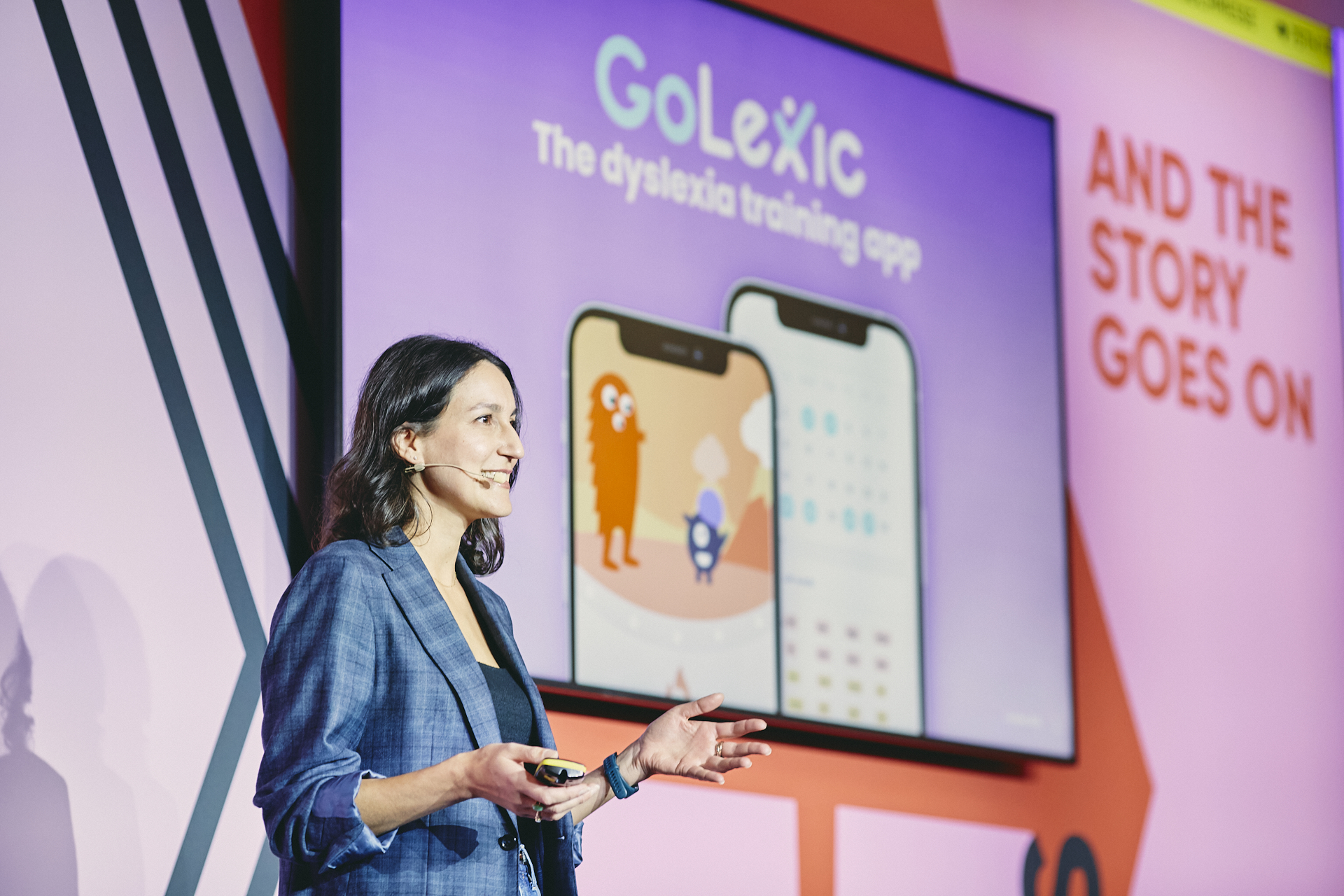 Samantha Merlivat at the pitch (GoLexic, winner 2023)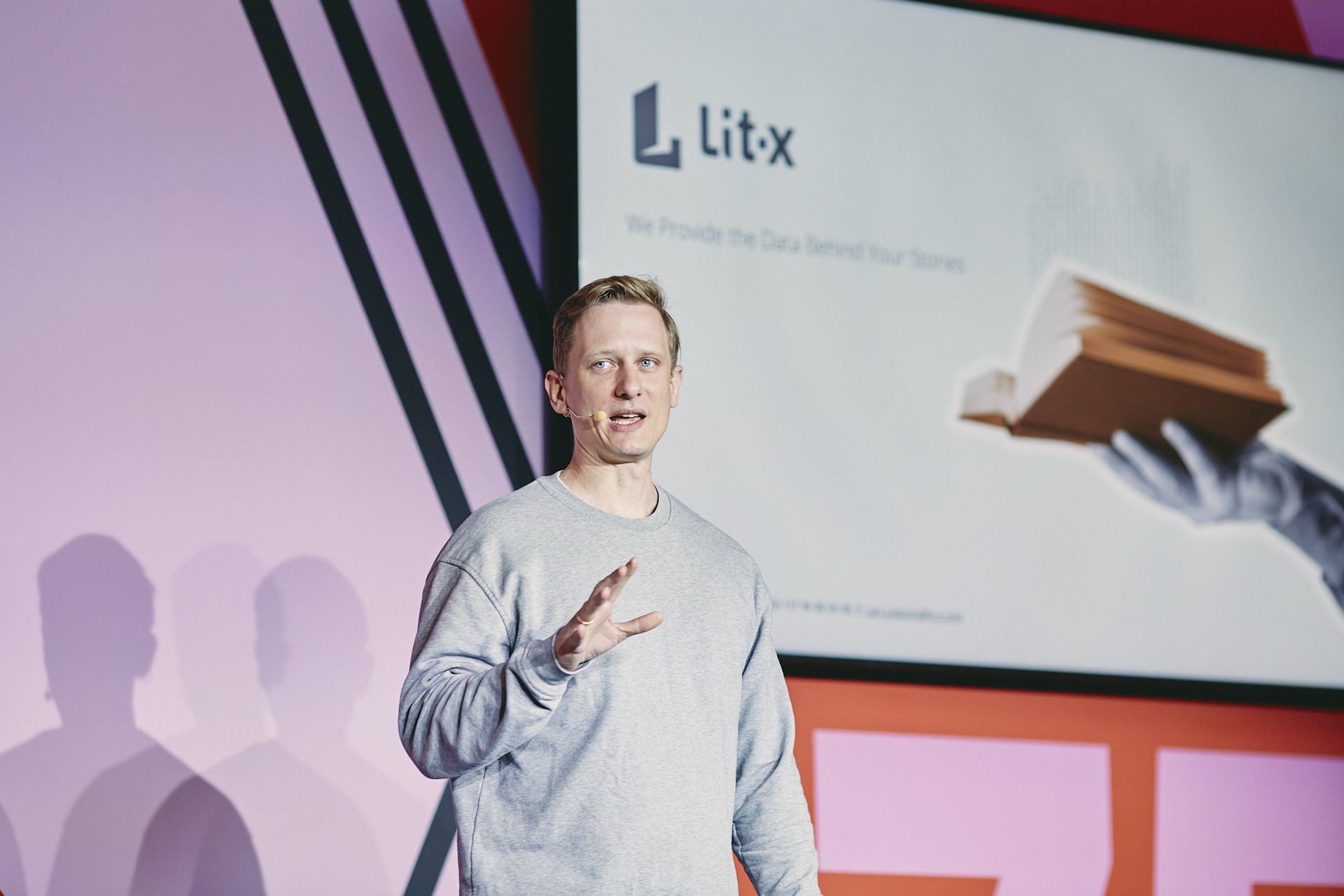 Lars Leipson at the pitch (Lit-X)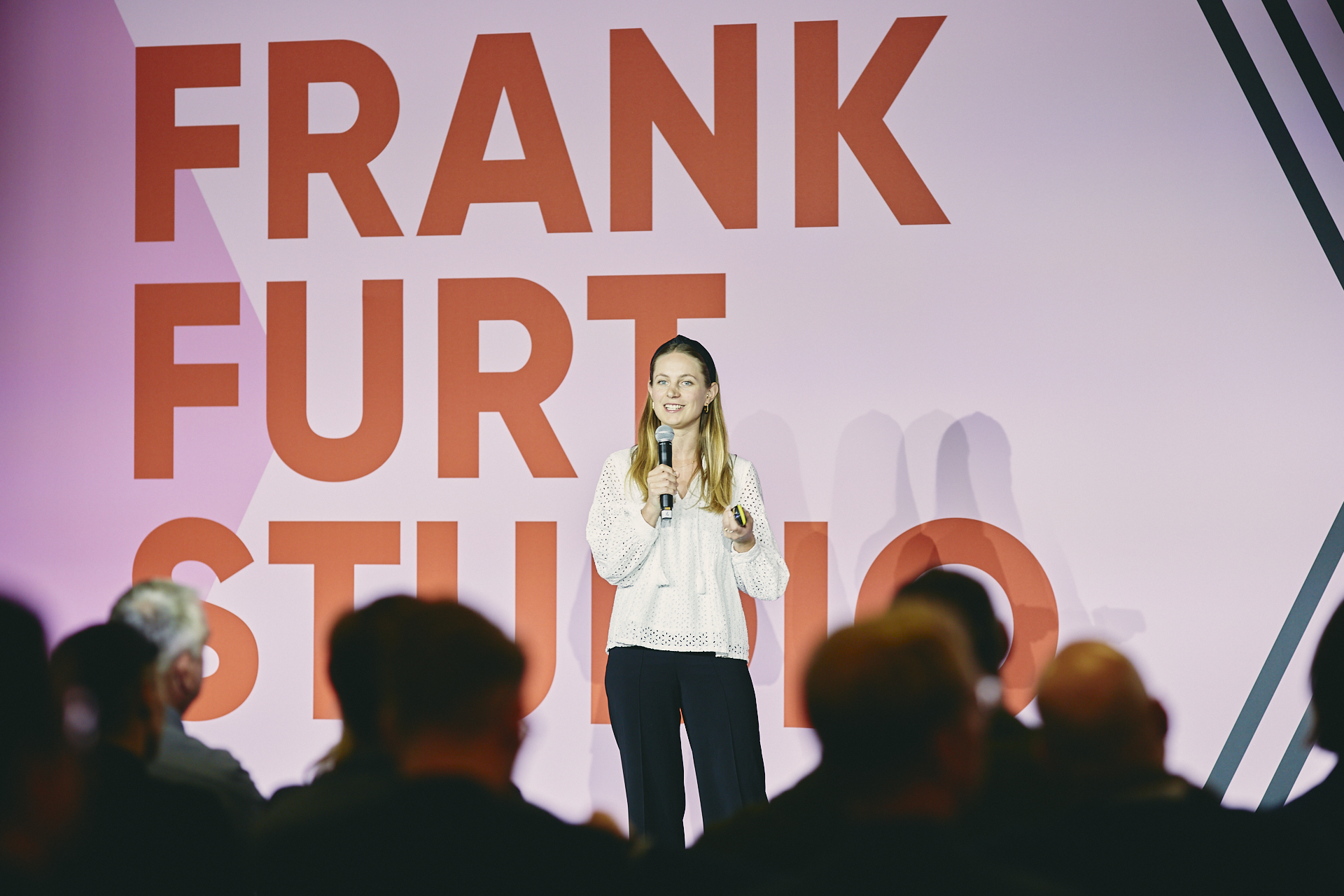 Vanessa Theel at the pitch (SUMM AI)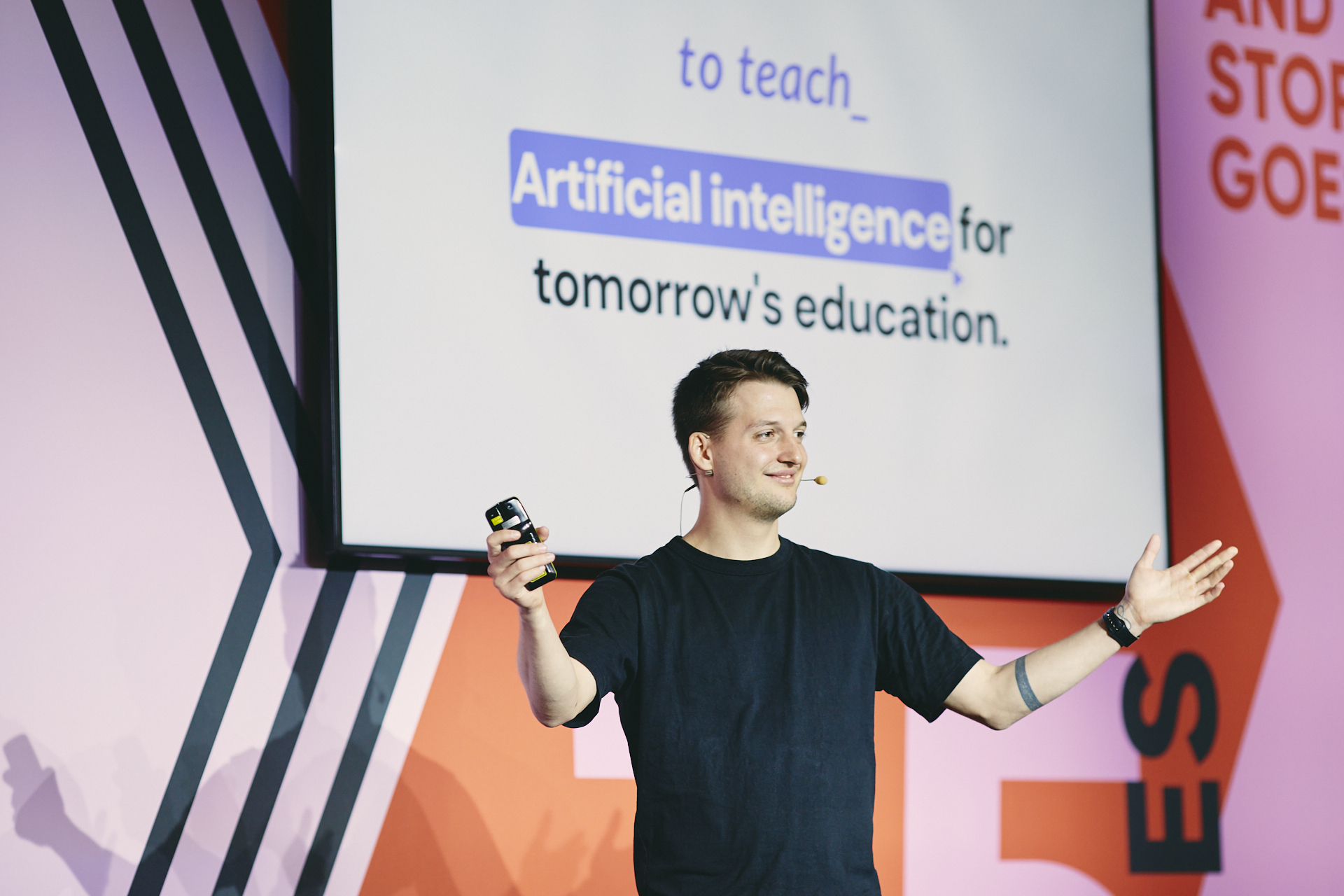 Felix Weiß at the pitch (to_teach)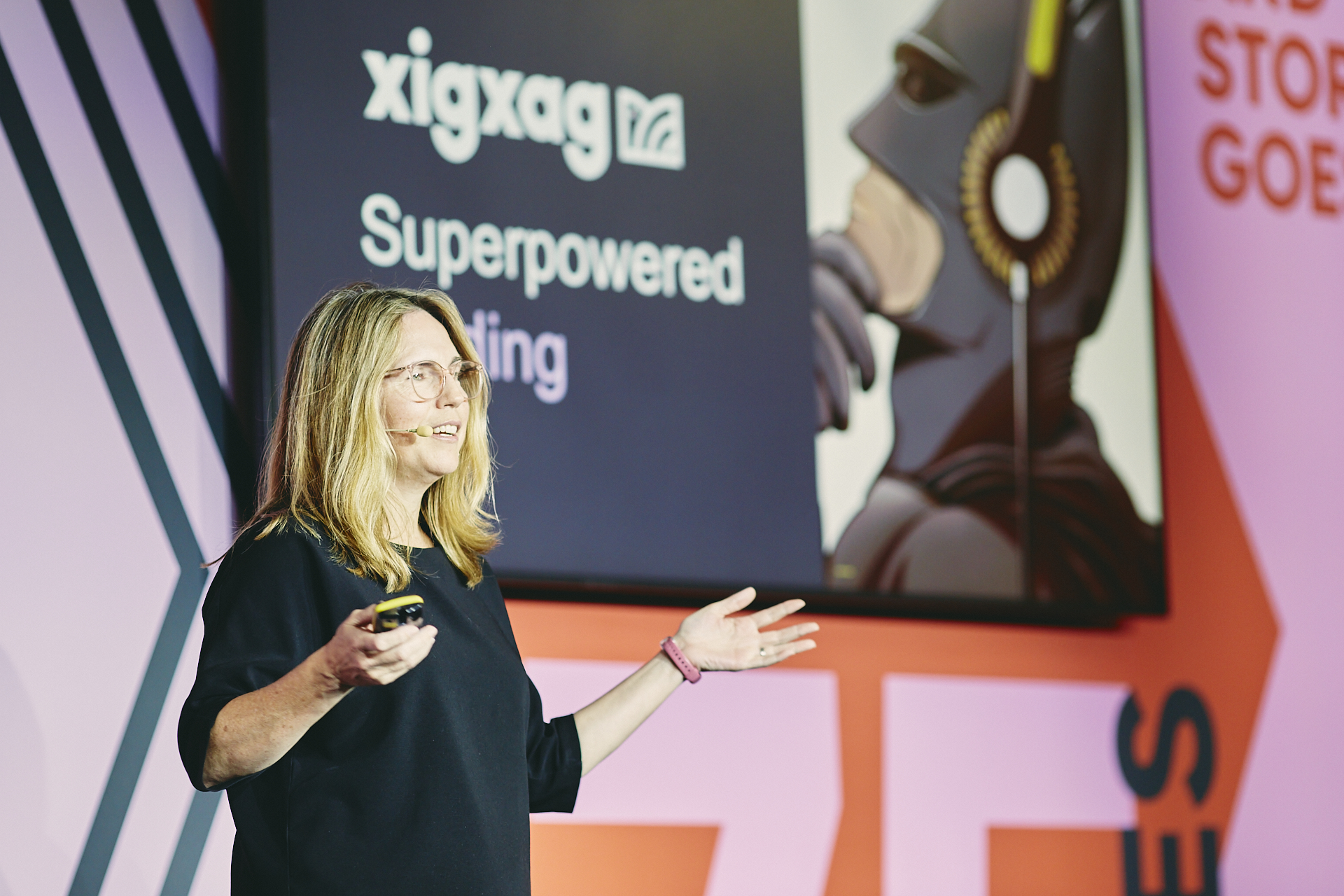 Kelli Fairbrother at the pitch (xigxag)
Jury speaker Per Dalheimer (Managing Director Hugendubel Digital)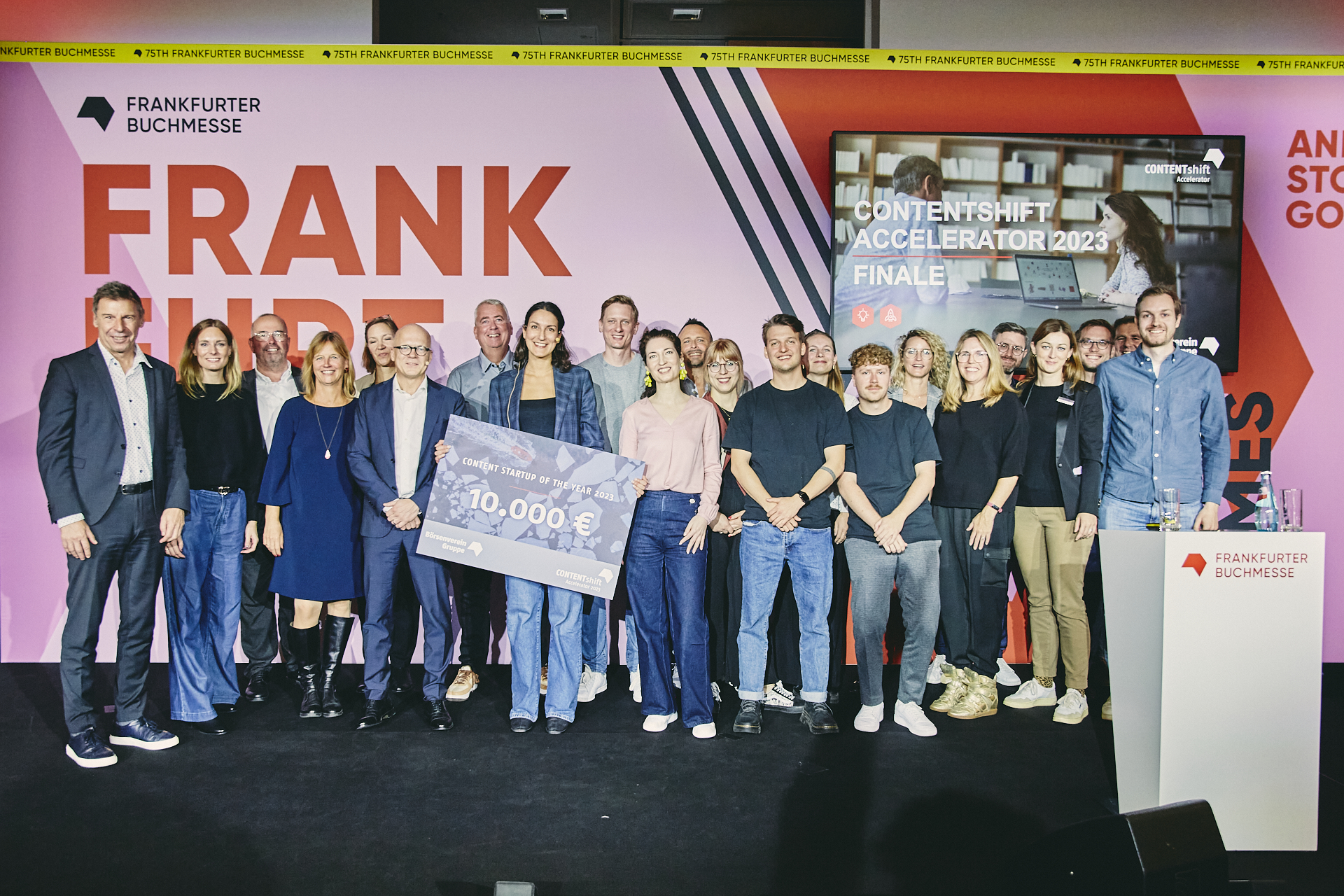 Group picture of the CONTENTshift accelerator 2023 round
What were you looking to achieve by participating in the CONTENTshift accelerator? There was already a significant amount of attention coming your way prior to the programme.
Yes and no. We definitely enjoyed some success as part of other competitions and funding programmes, largely because our app involves a subject that strikes a chord with a lot of people. But there was one industry we hadn't really collaborated with yet: the publishing industry. As soon as we released the app in Germany and started concentrating more on the German market, it became clear to me that working with book publishers would definitely strengthen our product. I also saw that we might be able to generate considerable synergies together with publishing companies. But when I started, I wasn't completely sure how these synergies could be actually implemented. I also wasn't clear about what a potential collaboration would look like. I knew what the benefits would be for us as a startup, but I hadn't yet figured out the best way to position ourselves vis-à-vis publishing houses. In other words, I wasn't sure what they would get out of it. These were the questions I was looking to get answers to at the CONTENTshift accelerator. I decided to participate because there was a strong focus on the publishing industry, because the coaches and mentors themselves came from the world of publishing – which was very important to me – and because the programme provided the best opportunity to answer all my questions. That's what the accelerator offered me. In those three months alone, I was able to gather a lot of experience in the publishing industry. Plus I was able to explore ideas with precisely the individuals and companies I want to work with in the future. Of course, actually taking home the top prize at the CONTENTshift accelerator 2023 was exceedingly important and extremely valuable.
Are there any specific moments or insights you're taking away from the workshop and the overall programme?
Quite a few, actually. The multi-day workshop in Frankfurt in September was a fantastic experience, both on a professional and personal level. There was a great deal of mutual support, and a lot of new friendships were created there, both among the startups and with the jury members and coaches, all of whom were always willing to help. It was an intense workshop, very focussed, and thus very constructive. It helped all of us move to the next level. I really appreciated the dedication and commitment everyone showed. One thing that's obvious to me now in hindsight is that our main focus – which is helping children to overcome reading difficulties so that future generations will have fewer kids who cannot read – is actually a mission that resonated with everyone I spoke to in the context of the CONTENTshift accelerator.
Did you think you'd actually be named Startup of the Year at CONTENTshift 2023?
No, of course not! I was totally focused on learning as much as possible. I was also very much aware of the fact that the programme lasts only three months and comes to an end at the Frankfurt Book Fair, which is an excellent place to get to know more publishers. So my priority was trying to get the most out of the three months I had. Of course, I'm honoured to have won, especially as the level of competition was so high. The other nominated startups were really great and all pitched fantastic projects that were developed further during the programme. We all knew it was going to be almost impossible for the jury to choose one startup from among us, because we were all so great. The other five teams are entirely deserving of attention as well.
What does winning this prize mean for your future? What's next for you and your company?
There's a saying in English that you should "strike while the iron is hot". I'm grateful for this prize, but I'm also highly aware of how much is happening at this very instant. The spotlight is on us right now, sure, but it won't stay that way, which is why I want to make as much as possible out of this moment. The programme opened a lot of doors for us. Not just because of the attention we garnered, but also because of the credibility it gave us. Winning this competition has given us a tremendous advantage, especially considering how many other startups are out there. It was great just to be selected for the programme in the first place, but actually receiving the award was simply amazing. Throughout the accelerator, I was working on developing a plan for how to cooperate with the publishing industry, and now it's all about putting that plan into practice.
Interview and text: Isabella A. Caldart
Translation: Julie Hagedorn
Images: Christof Jakob
---
You can also find us here