Wird geladen...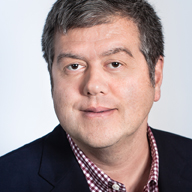 © Privat
Books, films, games, music... have all one thing in common: they are intangible assets that need a different financing approach than other assets. The digital shift has brought tremendous growth for intangible properties and the needs for financing has never been so demanding. Publishing and stories are at the heart of these creative projects... a majority of films, TV series and games are coming or inspired from stories that have been published or not. Today, we do not only need stories, we need new ways to manage, produce and monetize these stories. The digital paradigm is demanding new business models and new types of financiers to support the growth. I really look forward to discovering new approaches at CONTENTshift that will bring sustainability in finance, innovation and environment. Thierry Baujard
Media Deals
Media Deals is a pan-European investor network gathering business angels and early-stage venture capital funds focusing on Creative Industries and digital media. Since its creation in 2008, Media Deals has been promoting and encouraging early-stage equity investment in high-growth startup companies in different sub sectors of the Creative industries.
Media Deals offers quality sourcing, due diligence and investment syndicates for investors as well as investment readiness for start ups. In the last years, they have brought together more than 500 young companies in front of 400 investors from Europe.
Thierry Baujard
Thierry Baujard is CEO of European Investment Network Media Deals focusing on the Creative Industries.
After many years in the field of film finnace in the UK, USA and Berlin, he has been helping investors better understanding opportunities in vertical segments like Audiovisual, Musictech, Video Games and FashionTech.
He has made seed investments in creative companies across European borders. He is also co -founder of Franco-German Video Game Accelerator Spielfabrique with investments in studios and projects. Thierry is also a regular speaker at conferences on investment and financing in the Creative and Cultural Sector and an evaluator of the European Commission « EIC Accelerator » (SME Instrument).
He holds an MBA from Bocconi (Italy) and UCLA (USA) as well as the ENA Executive programme on Europe.
---
You can also find us here