They come from Germany, Denmark and England and have an exciting three months ahead of them: EasyCorrect, Jellybooks, MitmalFilm, QualiFiction and Varia are the five startups chosen to participate in this year's CONTENTshift accelerator. Congratulations to the finalists on making it to the final phase! Below is a quick overview of the business ideas behind this year's top five picks:
EasyCorrect: Teaching and learning made easy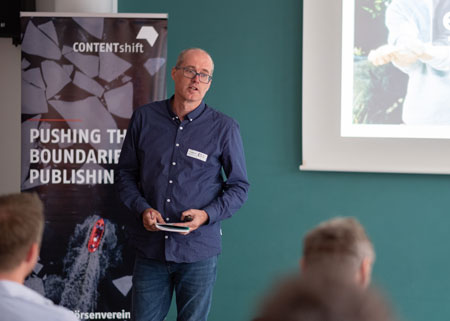 EasyCorrect is a Copenhagen-based startup with a total of 14 employees from seven different countries, all of whom are dedicated to giving teachers the tools they need to provide students with more effective feedback, thus helping to improve overall learning. "We offer a modular online platform called Edword that allows educators to organise written assignments and give students more useful responses", explains Niels Henrik Josiassen when asked about his business model. "Providing students with valuable feedback on their written work is one of the most important learning devices teachers have, but it's also one of their most time-consuming tasks".
A number of elementary schools, secondary schools, colleges and universities are already using Edword, for which they pay an annual license fee based on their number of students. "Our primary goal is to shift the focus of learning and grading away from merely indicating mistakes and more towards finding new ways of encouraging students and showing them how to submit better work next time", explains Josiassen. Edword offers both teachers and pupils a number of advantages: "Teachers can provide high-quality feedback in a short period of time, which makes it possible for students to go from being passive feedback recipients to active beneficiaries of teacher input" says Josiassen. By participating in the CONTENTshift accelerator, EasyCorrect is eager to gain a stronger foothold in Germany. As Josiassen notes, "we have several pilot schools already in Germany, but we're looking forward to making even more contacts here".
Jellybooks: Taking a closer look at Readers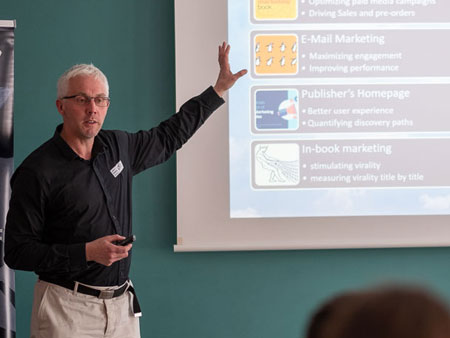 The English startup Jellybooks sheds much-needed light on the reading habits of test readers. As founder Andrew Rhomberg notes: "Readers are like black boxes. Nobody knows how they really read. Do they read a book in one sitting? Do they take breaks? If so, when? Do they even read the book all the way to the end?" Publishers often don't know the right length for reading samples or the type and operating systems on users' reading devices. With his startup Jellybooks, Rhomberg has found a solution to this problem. On behalf of publishers and authors, Jellybooks organises test-reading campaigns and provides readers with free ebooks in return for permission to collect their data and track their reading habits. With the help of this data "candy", Jellybooks wants to optimise book advertising and expand the scope of book-reading audiences with minimal effort. As part of this year's CONTENTshift accelerator, Jellybooks will be working on a new project called the "Cloud Reader". As Rhomberg notes, "the Cloud Reader makes it possible for readers to get from their Facebook page or Instagram account to their reading sample with only one click. Readers don't have to download anything and don't even need an app". With the help of integrated reader analytics, publishers are invited to gain insights into each point of contact made by book buyers – all the way from discovering a book to purchasing their own copy. "We're already noticing how interesting this is for publishers", says Rhomberg.
Mitmalfilm: Animated films meet books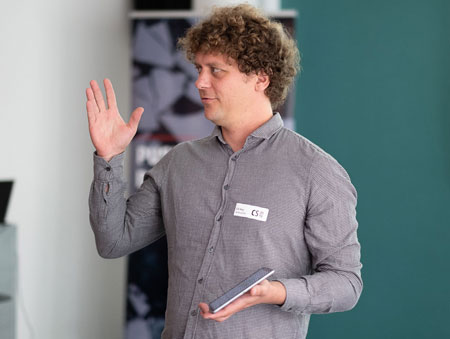 Mitmalfilm was founded in the spring of 2019, which makes it the youngest startup participating this year. The aim of the project is to build a bridge between animation films and books. "Children are fascinated by moving images and can watch cartoons for hours on end", explains media designer Ulrich Seis when asked about his business concept. His goal with Mitmalfilm is to shift the role played by children from that of passive recipients to active and creative consumers. "We've developed an app with a specially designed drawing book that contains colouring pages for children between the ages of four and seven," Seis explains. Children can colour in these templates and then scan them onto their smart phones using the Mitmalfilm app. "The images drawn by the children serve as individual backgrounds for the animation films that are then professionally produced by us," says Seis. Getting started is easy for kids, he notes, as drawing one single drawing template is enough to create the first episode. "The willingness of consumers to pay for children's books remains high. Mitmalfilm is a true novelty in the sector, which means that it has tremendous market potential," explains Seis. "Anyone interested in familiarising themselves with the procedure can try it out very easily. The beta version of Mitmalfilm is online at beta.mitmalfilm.de, and we're happy to share user names and passwords with curious potential users".
QualiFiction: Predicting tomorrow's bestsellers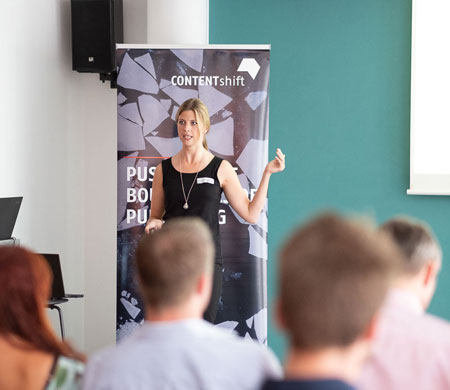 The Hamburg-based startup QualiFiction makes a big promise: it claims to be able to predict the prospects for economic success of works of fiction within 60 seconds using an AI-based software called LiSA. For potential users – primarily publishers and authors – the procedure is quite simple: an encrypted version of the text is uploaded directly into the QualiFiction cloud and users get the results of the analysis roughly one minute later, including feedback and information regarding the text's potential to become a bestseller. According to founder Gesa Schöning, QualiFiction's accuracy rate is 78%. The Hamburg-based entrepreneur explains that "a total of almost 40,000 texts and their related sales figures were fed into the software". The response has been massive, she notes: "We're getting a lot of interest from authors, who are able to gain information about the strengths and weaknesses of their text within seconds, but also from publishers, who are able to determine very quickly whether a book fits into their current programme or not." LiSA uses AI to analyse the texts and recognise patterns in them. Included among the information it visualises are the book's subject matter, its characters and style, exclusivity and mood development. Eight publishers and over 300 authors are currently using QualiFiction, and demand for the software is increasing. The aim now is to find investors to facilitate the startup's next steps.
Varia: Breaking out of the filter bubble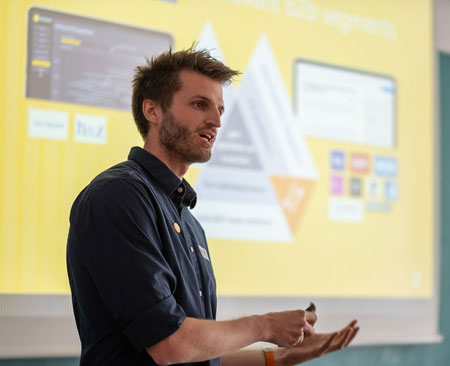 Varia is a Munich-based startup that has set itself a very high goal: using an AI- and NLP-based content platform, it seeks to make it possible for users to exit their own online filter bubbles. When asked about his startup, co-founder Georg Horn explains: "We're a kind of search machine. When users have an interest in a particular subject, they can use Varia to research articles on the subject, but they also get a keyword-based assessment of the varying perspectives taken by those articles". Horn calls the concept behind his startup "perspectives as a service." He founded Varia back in 2018 and is pleased with the progress since then. The alpha version of Varia for the B2C realm is currently being tested online on the company's website, and they have just entered into cooperative agreement with a German automaker. In the fall, their first collaboration with a publisher will get underway. According to the founders, the startup's target group is very broad: "We're convinced that journalists, publishing houses, industrial enterprises and even individual news readers will be interested in being able to quickly grasp different perspectives on a single topic. We're getting tremendous resonance from the market and also from our user tests", explains Horn.
These five final nominees will have a lot on their plates in the coming three months. They will be taking part in coaching sessions and a joint workshop weekend as well as many exciting one-on-one discussions. At the Frankfurt Book Fair in October, the CONTENTshift jury will decide which team of founders will become the "2019 Content Startup of the Year". We're keeping our fingers crossed for all the finalists!
Text: Christiane Petersen
Photos: Kevin Schmitz
---
You can also find us here